---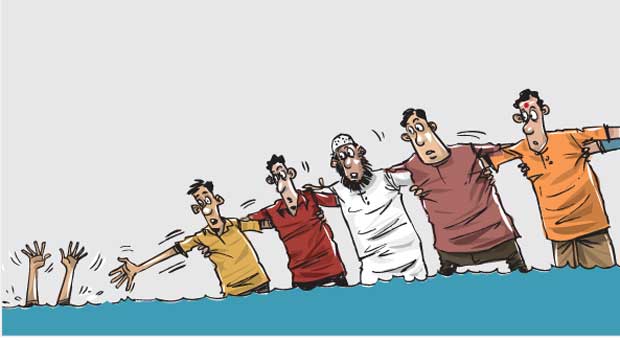 newly-formed journalists' movement has welcomed the National Government's draft policy for reconciliation and lasting peace, while stressing it is vital for this document to be taken beyond words or paper and implemented sincerely in consensus with all those committed to the principles of inter-religious unity and unity in diversity.
In a media statement after a meeting on Monday, the Journalists' Movement for Media Ethics and Social Justice (JMMESJ) has described the policy document as a positive measure. This document was exclusively published last month in the publications of the Sunday Times group.
The Movement has extended its unqualified backing for the policy principles enunciated in this document and sees them as important catalysts in the promotion of national reconciliation, justice, peace and unity.
"The endorsement by the government of principles, such as, Equality, Human Rights, Inclusivity and Diversity and Justice and the Rule of Law, is not only timely and progressive but highly courageous as well, in the Sri Lankan context," the movement said.
It considers the sincere implementation of these principles under a new Constitutional dispensation as one of the most durable foundation stones for a peaceful and stable Sri Lanka.
It has called for the early and consistent implementation of the national policy on reconciliation, on the basis of consensus among all stakeholders.
The policy document was worked out by the Office of National Unity and Reconciliation (ONUR), headed by former President Chandrika Bandaranaike Kumaratunge and comprising widely respected personalities in reconciliation and peace issues.
At the discussion on Monday, the journalists' movement reflected on the need for those involved in the reconciliation process to work towards justice in a spirit of compassion and humility. It was stressed that, like in Nelson Mandela's post- conflict South Africa, the truth and reconciliation process needed to be centred on restorative justice. It was pointed out that retributive justice with the focus on punishment would only stir up revenge or vengeance or bitterness and anger without fostering the spirit of unity in diversity.
If the policy for reconciliation and peace is sincerely implemented, it could also be the foundation for poverty alleviation through a more equitable distribution of wealth and resources in vital areas such as quality healthcare, education and good job opportunities in productive or creative fields in urban and rural areas.
The National Government has declared 2017 as the year of poverty alleviation.
October 13 was the International Day for the alleviation of poverty. United Nations' social justice experts in a statement said instead of just dolling out charity, the oppressed people should be given a plot of land and a modest house, means to earn a livelihood, quality healthcare and education, leading to good opportunities. They said while all these needs should be provided there were two other factors which had caused a degradation of millions of oppressed people. These were humiliation and their exclusion from decision making processes in their neighbourhood, society, country and sometimes even in religions. The UN said it was vital for these degrading factors of humiliation and exclusion to be rejected and for an attitudinal change in society to include these oppressed people in the growth and development process.
To move towards this vision and also in the crucial battle against climate change, inter-racial and inter-religious unity is vital.
People of all religions could come together on these issues in a spirit of compassion and humility.
The media also need to take the high road and foster the spirit of social justice and ethics, instead of indulging in petty party politics for the personal gain or glory of any personality or party.