---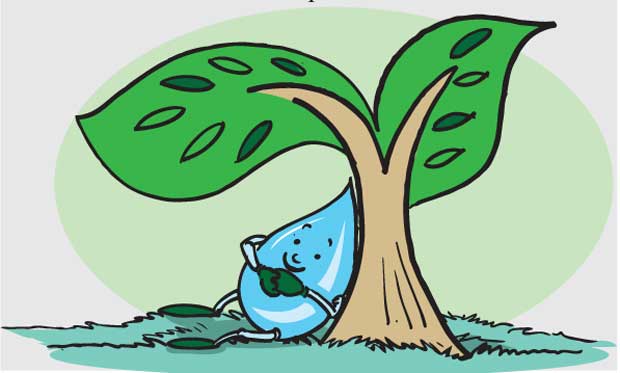 he single minute, humble door it may be makes the mighty ages of eternity. Similarly, it is a reality that little drops of water make the mighty ocean. We need to ponder deeply on such immortal words when observing vital events such as World Water Day which was marked on March 22. The United Nations Environmental Programme (UNEP), playing an important role in the battle against global warming says this year's theme is 'Nature for Water' and we need to explore nature-based solutions to the water challenges we face in the 21st century.
The campaign is called 'The answer is in nature' and raises awareness of nature-based solutions. The central message is that nature-based solutions - such as planting trees to replenish forests, reconnecting rivers to floodplains, and restoring wetlands - is a sustainable and cost-effective way to help rebalance the water cycle, mitigate the effects of climate change and improve human health and livelihoods.
According to the UNEP, by using nature-based solutions to help meet the water needs of a growing population, we will contribute to the creation of a circular economy. At the same time we will protect the natural environment and reduce pollution - both key targets in Sustainable Development Goal 6 - which commits the world to ensure availability and sustainable management of water and sanitation for all by 2030.
UN General Assembly President Miroslav Lajčák has identified sustainable development as a priority. Therefore, on World Water Day, he launched the International Decade for Action: Water for Sustainable Development 2018-2028 aiming to further improve cooperation, partnership and capacity development in response to the ambitious 2030 Agenda for Sustainable Development. The 2018 edition of the World Water Development Report (WWDR 2018) was also launched in Brazil on March 19 at the 8th World Water Forum. It sought to inform policy and decision-makers about the potential of nature-based solutions to address contemporary water management challenges across all sectors, and particularly regarding water for agriculture, sustainable cities, disaster risk reduction and improving water quality.
But British Newspaper 'The Guardian' told a different story on the Brazil session to mark World Water Day. It said at a high-level talking shop for the global water industry in Brazil, river defenders and community activists - who are often murdered or criminalised for trying to protect their resources - have set up an alternative forum to share their stories.While presidents, royalty and corporate dignitaries gave speeches at this global conference last week on the need to protect water sources, river defender Ageu Lobo Pereira was running for his life through the Amazon forest. The head of the riverine communities of Montanha e Mangbal had been tipped off that assassins were preparing an ambush. They wanted to end his resistance to mines, deforestation and dams that threaten the Tapajós River. It was not the first narrow escape.
"At a mega level, President Maithripala Sirisena - who is also the Minister of Environmental Affairs - recently launched projects to restore thousands of wewas in several provinces. "
Two of his friends, Francisco Firmino da Silva and Pedro Braga da Silva, have also been on the hit-list of a notorious local businessman since they allied with indigenous groups to demarcate their territory. The authorities have been notified of the attacks. Police know the name of the mafia-like boss who wants them dead. The community leaders have requested guards from a federal protection programme. But so far, the law has been absent, leaving the villagers vulnerable to more violent, economically powerful and environmentally destructive forces.
In Sri Lanka, though we have 16 major rivers and more than 80 small rivers or canals, we are still facing one of the worst droughts in our history. Therefore, eco-friendly and responsible citizens need to reflect on how we could save fresh water.
At a mega level, President Maithripala Sirisena - who is also the Minister of Environmental Affairs - recently launched projects to restore thousands of wewas in several provinces. Many people think that wewas are just tanks. Not so. They are acclaimed as marvels of ancient engineering and can store fresh water in rainy seasons so that we could use it when there is a drought. With modern technology, the wewas restoration programme could be implemented effectively and we could collect millions of litres of rain water.
At a personal level, if each responsible citizen could save about 10 litres of water a day, the total daily saving will be 210,000,000 litres. That is why we spoke about little drops of water making a river. In practical terms, we could save water by opening taps only half way or less for washing purposes and cutting down our shower times by five minutes. Some citizens have also installed rain water harvesting equipment in their houses. There are many other ways. But, we could take one step at a time, conscious that saving water is an act of undiluted patriotism.