---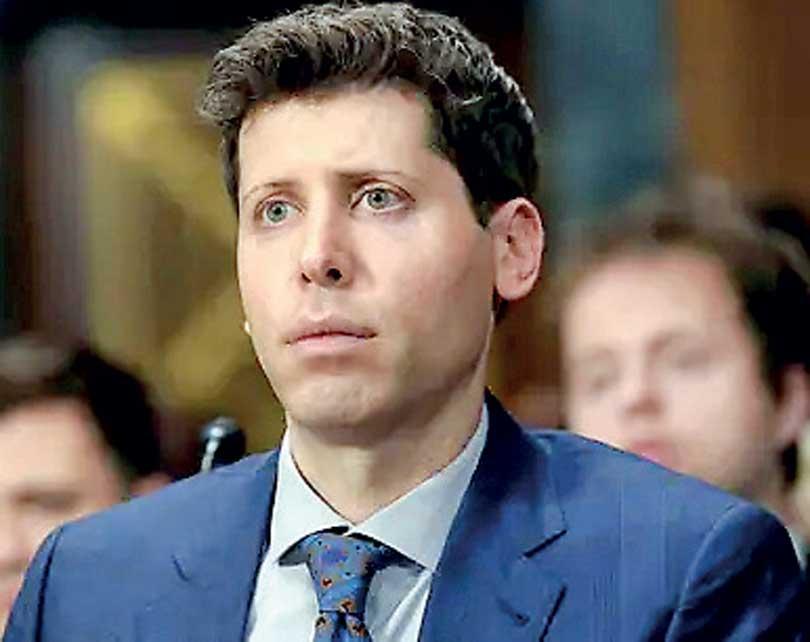 Sam Altman of ChatGPT and OpenAI

Sam Altman, the founder of OpenAI /ChatGPT3 speaking at a recent US Senate hearing on AI, warned of serious consequences if this technology goes wrong, increasing joblessness, misinformation, and deepfakes impacting democracies among others. These are all deeply concerning. Are we ready for such a future?
In Sri Lanka as a country looking to transform domestically and also export technology products and services to other countries, it seems a lot remains to be done in directing and synchronizing efforts.

As more and more jobs become threatened by AI, while the majority of higher education remains targeted at the volume end of the services market it is important to get clarity fast on the direction that we need to take to secure future jobs.
Even at present with some software companies in Sri Lanka implementing a hiring freeze, some jobs are already harder to come by.
How much of this is because of new AI, such as copilot in various platforms, is yet unknown. But what is known is that services companies can now offer to take on jobs with smaller budgets and do the work for cheaper as they have help from AI.
The hiring freeze is despite these advancements. President Ranil Wickremesinghe has made several statements on AI. Which is very positive.
He instructed officials from the Ministry of Technology to form a presidential task force comprising AI experts and prepare a concept paper to promote AI usage in the country.
He desired to use AI across many sectors from banking to education. He even said to use AI to teach Theravada Buddhism on an international scale. Media reported that AI is to be taught in schools as soon as 2024. All great signals.
The government of Sri Lanka announced recently an allocation of Rs. 1 billion in funding for AI. Although in dollar terms this may seem insignificant, especially looking at news such as WIPRO, India investing US$ 1 Billion on AI.
But this is a great first step for Sri Lanka, especially considering our current situation and the multitude of demands on limited funds. What's important in this announcement is that it expresses the government's intent to invest in AI despite the challenges.
I wish the social media critics on the amount to be invested, spent their energy on suggesting how to utilize these funds, which pilots to run, and quantifiable plans with areas and targets for investment in the next 5 years.

A recent announcement in the press about AI being used in Sri Lankan hospitals in the early detection of cancers using iris scans is great progress. We should have such advancements in every field. An AI policy and its faithful execution will ensure it.
We need to at least have a plan that looks at to cope with the inevitable future where AI plays a significant role in our lives. But we also have an opportunity to be more than mere pawns in such a future. If we are late to the party, as usual, we will certainly become obsolete or relegated to the low end of the value chain. This is not where we want to be.
It is a great first step to have a political vision. We need to have a strong follow-up implementation. How prepared are we for the challenge that AI presents?
So, where is Sri Lanka? AI has been taught in Universities in Sri Lanka for decades and local researchers have done a lot of work in this space.
We have an association for AI, namely, the Sri Lanka Association for Artificial Intelligence (SLAAI). It reports on its website a conference on AI since 2017. SLASSCOM in 2019, presented to the then Minister of Information Technology a policy draft on AI and it also has an AI Center of Excellence setup. What has come out of these initiatives?
What is surprising is the list of many other countries that have made significant progress in this space. South Asian countries India, Pakistan, Bangladesh, and Nepal already have policy initiatives. India ranks third after Singapore and Hong Kong in the Asia Pacific region, in terms of
artificial intelligence readiness.
As AI is increasingly gaining ground in different areas, India has already laid out its AI policy strategy, which will not just leverage AI for economics but social inclusion as well. Even as far back as 2019 India is said to have more than 1,500 AI Startups, which would be many fold more by now.

Many Indian companies have announced various initiatives which are already offering services to users. India has many MoUs and collaborations with global technology giants and research institutions.
South American countries such as Argentina, Brazil, Chile, Colombia, Costa Rica, Peru, Mexico, and Uruguay also have initiatives. Also, African countries Kenya, Mauritius, Morocco, Nigeria, Rwanda, South Africa, and Tunisia have programmes. Democratization of AI adoption is indeed great news. What is worrisome is the question that comes to mind, are we falling behind as usual?
The contribution to global GDP is expected to exceed 15 trillion by 2030. More than 60 nations have already published their AI policies and some even have ambitions of AI supremacy. There is an arms race between those who have capital to spend on expensive computing capabilities. Some of these initiatives may be surprising as new countries enter the foray. Recently Saudi Arabia and UAE have spent $120Mn on 3,000 NVIDIA H100 chips which cost $40,000 each to power their AI projects. It is refreshing to hear new countries take such a lead. While concerns about our progress remain.
The formulation of a national AI policy is an important step in wide AI adoption. AI has the potential to empower all of society and not just serve the rich, big and powerful. It can resonate across a spectrum of stakeholders and beneficiaries.
Given Sri Lanka's long association with AI in research, academics and a few companies, an AI policy has been a long time coming. But it's an important first step. We need to elevate our AI game quickly. Adoption for use in local scenarios is key, and traditionally we have been weak in adopting locally developed new technology. Instead, we prefer to use imported tech at huge premiums. We also need to carve out pathways to integrate into global AI value chains. To do this we will need to look at where our companies will offer products and services, where they can be competitive, and how the enabling environment will need to align. Orchestration across many fronts is needed to take full advantage of this opportunity and not be left behind.
fayaz.hudah@gmail.com