---
Midnight tonight, when 2016 ends and 2017 begins, has been proclaimed as the International Hour for peace, a global effort launched in 1986 by John Randolph Price and the Quartus Foundation - a spiritual research movement. The vision is to give the international community an opportunity to gather for peace, love, understanding and forgiveness through a simultaneous global mind–link at noon Greenwich Mean Time on December 31st of each year.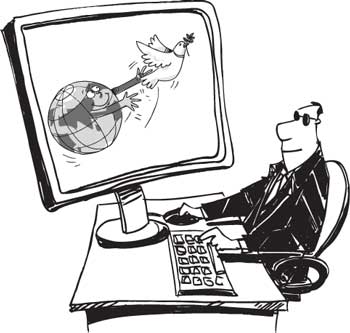 According to the movement, this is based on the Quantum Physics principle that thought can direct energy and thus create reality. The event is designed to synchronise and join millions of minds around the world in prayer, meditation, music, art, dance, poetry, readings, dialogue and other ways to focus on and manifest lasting peace on Earth. This call for positive thinking, care and concern for others comes at a time when the world is facing an unprecedented crisis of conflicts within conflicts and confusion within confusion with contradictory claims making most people wonder where and what we are heading for.

On December 29, the United States administration of Barack Obama, whose term ends in three weeks, announced that Russia had launched the biggest ever cyber war on the US. President Obama making the announcement on the basis of intelligence reports submitted to him by some 20 agencies including the Central Intelligence Agency (CIA), accused Russia of hacking emails and websites to influence the November 8 presidential election in favour of its friend Donald Trump and at the expense of democratic party candidate Hillary Clinton who was a clear favourite.

The British Guardian newspaper said yesterday the Obama administration announced its retaliation for the Russian efforts to interfere with the US presidential election, ordering sweeping new sanctions that included the expulsion of 35 Russian diplomats. US intelligence services believe Russia ordered cyber-attacks on the Democratic National Committee (DNC), Hillary Clinton's campaign and other political organizations, in an attempt to influence the election in favour of the Republican candidate Donald Trump. The outgoing president said Americans should be alarmed by Russia's actions and pledged further action. "I have issued an executive order that provides additional authority for responding to certain cyber activity that seeks to interfere with or undermine our election processes and institutions, or those of our allies or partners," Mr. Obama said while vacationing with his family
in Hawaii.

Mr. Obama also announced he had sanctioned nine entities and individuals: the GRU and the FSB, two Russian intelligence services; four individual officers of the GRU; and three companies that provided material support to the GRU's cyber operations. In addition, the Treasury secretary is designating two Russian individuals for using cyber-enabled means to cause misappropriation of funds and personal identifying information." The President also announced the closure of two Russian compounds in the US and added that more action would be taken but some of it would not be publicised. On Thursday, Mr. Trump, who has previously dismissed reports of Russian interference in the election, said in a statement "It's time for our country to move on to bigger and better things." He added, however, that "in the interest of our country and its great people, I will meet with leaders of the intelligence community next week to be updated on the facts of
this situation."

In Moscow, the powerful president Vladimir Putin's spokesman said Russia regretted the new sanctions and would consider retaliatory measures. Diplomatic expulsions are normally met with exactly reciprocal action. In this case, however, Moscow may pause for thought. With Mr. Trump, who has spoken positively about Russia and Vladimir Putin, just three weeks away from the White House, Russia may feel it is inadvisable to expel 35 US diplomats, the newspaper said. In complete contrast to the US Russian cyber war which some analysts believe to be as serious as the 1962 Cuban missile crisis, a ceasefire came into effect across the war battered Syria after the Assad regime and the opposition agreed to a nationwide deal brokered by Turkey and Russia. It is hoped the fragile pact could mark a key turning point and usher in peace talks aimed at bringing an end to the six-year conflict that has killed nearly half a million people and displaced half of Syria's population.
Amid such contrast, Sri Lanka also enters the New Year 2017 on a hopeful note with the two major parties coming together for the first time and pledges that 2017 would be the year of poverty alleviation and unprecedented development. Our New Year hope is that plans or promises will be implemented in a manner that brings sustainable eco-friendly and all inclusive development.