---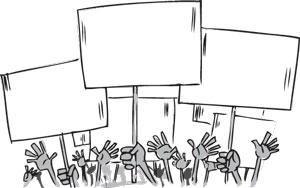 At the primaries for the United States presidential election in November this year, an unprecedented youth revolution is emerging with young adults both females and males supporting the 74-year-old democratic party candidate Bernie Sanders. In the New Hampshire primary election last Tuesday, Mr. Sanders -- who has vowed to dismantle Wall street and corporate America -- trounced the veteran front-runner Hilary Clinton with a 22 per cent majority. Most significantly his main supporters are young adult voters who agree with him that the monstrous gap between the rich and the poor -- where the world's 62 super billionaires own more wealth and resources than half the world's population of 3,500 million -- needs to be overturned to bring about a just society.

Mr. Sanders, a self-declared social democrat and independent senator from the state of Vermont bordering New Hampshire, achieved a victory that was unthinkable a few months ago.

According to the Guardian newspaper, political insurgencies -- not only by Mr. Sanders but also by the Republican party's bombastic entertainer Donald Trump -- may drag on for months, with potentially profound consequences for the direction of national politics and for whoever eventually wins.

From their very different perspectives, both for example, rail against the system of campaign finance that has come to dominate US elections but is now being questioned by many. Sri Lanka politicians please note and act on this.

On high moral grounds, Mr. Sanders is beating Ms. Clinton's rich backers by raising $20 million a month from a record number of small contributors giving him an average of just $27 each.
"We have sent a message that will echo from Wall Street to Washington, from Maine to California, and that is that the government of our great country belongs to all of the people and not just a handful of wealthy campaign contributors and their Super Pacs," Mr Sanders told ecstatic supporters at a victory party paid for without any need for such unlimited political action committees, the Guardian said.

"Tonight, we served notice to the political and economic establishment of this country that the American people will not continue to accept a corrupt campaign finance system that is undermining American democracy," Mr. Sanders added -- a message that has much relevance not only for Sri Lanka's corrupt former regime but also for the national government. If it does not practice what it preaches and walk the talk their might be a silent and peaceful youth revolution here much in contrast to the JVP's 1971 armed insurrection, the LTTE's terrorist war and the reign of terror from 1987 to 1989.

Shortly after Ms. Clinton rang Mr. Sanders to concede defeat in a campaign dominated by claims of her links to Wall Street and her receipt of lucrative speaking fees from Goldman Sachs, Mr. Sanders' supporters started singing, "We don't need no Super Pacs," to the tune of the Talking Heads song, Burning Down the House. Given what a challenge his new way of politics poses to a system that even President Barack Obama relied heavily upon, the original lyric may have been just as apt, according to the Guardian.

Instead of parroting the standard boasts of American exceptionalism, Mr. Sanders says the United States is losing the key battle of the 21st century; the soaring income inequality as a sign that the American dream is dead.

Mr. Sanders also slams the "corporately owned media" for failing to take his ideas for social reform seriously enough.

"The people of New Hampshire have sent a profound message to the political establishment, to the economic establishment, and by the way, to the media establishment," he told supporters on Tuesday night, as he turned to shake their fists and stomp their feet at journalists.

Sri Lanka's new government leaders and even those in the opposition need to take the right lessons from this peaceful youth revolt in America. The young people are learning enough and more about ground realities from their smart phones and laptops. Politicians cannot bluff them anymore. If they do not bring about good governance and democracy, social justice, accountability and transparency, there may be a peaceful youth revolution here as well.