---

Are the rights of people with disabilities protected?
A Supreme Court order has recognized that approximately 20% of the country's population lived through some form of disability. However, the plight of the disabled in our country has been overlooked. Laws and regulations introduced to protect the rights of the disabled have not been implemented, and Disability Rights Advocates claim the current situation to be 'deplorable.'
Though equality has been established constitutionally, the rights of disabled people have been denied. Most disabled individuals are incapable of shattering the glass ceiling they find themselves

in. Accessing banking facilities, public transport, public buildings, health facilities and education are massive challenges to them.
The Daily Mirror spoke to a few Disabled Rights Advocates, Principals of schools that educate persons with restricted abilities and other parties on the challenges faced by disabled persons in Sri Lanka. The obstacles they face are many and varied, however we need to instill 'hope' and make them 'confident' - as Helen Keller put in - so that they could achieve their dreams which were perhaps once a mere dream sailing without direction. Being both deaf and blind, renowned prolific writer and political activist Helen Keller set a precedent to all disabled persons through her astounding career, proving 'disability' was 'not an inability.'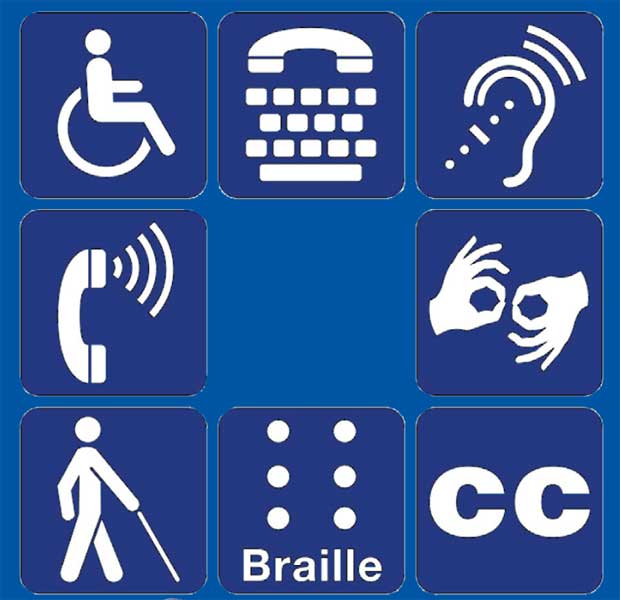 The visually impaired
Chamira Pubudu Kumara, the Secretary of the Federation of Visually Handicapped, turned blind when he was just thirteen years old. Now, 28, he says he noticed a drastic difference in how he was treated before and after his impairment. He noted that though there were no official records, there were 700 000 visually impaired people while 150 000 were completely blind.
Audible traffic systems disabled
"When traffic lights are imported to the country, there is an audible traffic system attached. Even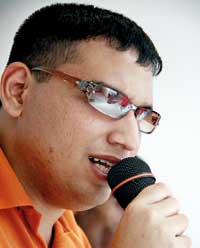 certain buses have these systems. But they have been disabled in some places," Kumara said, adding that the audible traffic system at a crossing in Colpetty no longer worked, probably because it has been deactivated.
No employment opportunities
Highlighting the issue of employment which affects all disabled persons, Kumara said though there were a few vacancies in the private sector, there were no employment opportunities offered to them in the government sector.
"The government doesn't offer jobs to the blind. It is true we are visually impaired, but we can work as telephone operators in institutes such as hospitals," he added.
Meanwhile, Desmond Perera, the Principal of the Ratmalana School for the Blind, said, "We have to encourage private sector entrepreneurs to welcome them in. We have the maximum number of graduates, but unfortunately many have no jobs. There are programmes such as 'Tharuna Aruna' for unemployed disabled graduates. But there are no such programmes for the blind. Thus, the government and corporate sectors should get together and solve this issue," he added.
Violation of the free education concept
He noted that certain study material was not accessible to the blind. "The workbook that comes with the English pupils' book is not available in Braille," he said. He added that invigilators of public examinations should be thoughtful of the blind students.
"Our teachers are not allowed to invigilate during any public examination, which is fine. But the teachers who come from outside should be aware of the difficulties faced by blind students. They could come early, meet the subject teachers and get to know about them," he said, adding that Braille books were not provided on time which was a violation of the concept of free education.

Deprivation of banking facilities and insurances
Kumara further noted that leasing facilities, land loans, ATM cards and life insurances were not offered to blind people.
"Blind people don't usually meet with accidents unlike people who are visually abled. However, we can't get a life insurance. We are often asked to open joint accounts and if we do need an individual account, we have to go to the extent of meeting the manager," he said.
Accessibility of public transport
Referring to the accessibility of public transport, he said, "We don't ask to travel free of charge or for special treatment. We only ask for facilities to make public transport accessible."
However, Perera further expressed that he had lost faith in public transport. "People are mostly sympathetic and helpful. But bus drivers and conductors often don't stop when they see someone with a white cane. They are very hesitant to take them in because they have to stay longer until the blind person gets in," he said.
Road issues
He added that authorities should be sensitive to the problems faced by disabled people.
"For an instance, a blind person will walk on the road in the morning unhindered. In the evening, when he returns, on the same road he naturally expects it to be as it was in the morning. But our authorities would have dug a hole in the pavement in the interim. They wouldn't have covered it. So it is the blind person who pays the price at the end," he said.
Inability to vote
Referring to one of the many practical problems faced by the visually impaired, Ishan Jalill, a Disability Inclusion Specialist at the International Foundation for Electoral Systems, said he was unable to vote.
"When I go to vote, I have to produce several documents at the polling station and get a person I trust to vote on my behalf. If I don't have the documents, the SPO or someone else at the polling station can vote on behalf of me. This isn't me voting. How am I assured that my vote is cast?" he asked, adding that this was one problem out of many he faced as a disabled individual.
The hearing and speech impaired
Costly hearing aid
"Most children who come here are poor and they can't afford a hearing aid which costs more than Rs. 40 000, depending on the level of impairment," said Samanthika Jayasuriya, a lawyer who functions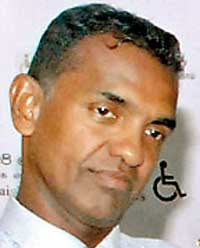 as the Principal of the Ratmalana School for the Deaf and Dumb.
Sign language
She raised concern that almost all people in the country were unaware to interpret or communicate in sign language. "In other countries, non-disabled people pursue speech therapy and sign language courses," she noted.
"Hearing impaired students have limited opportunities in education. When two senses (hearing and speech) are impaired, it is very difficult to grasp certain concepts. Hence, we need to find more and more vocational training avenues which are suitable to the children," she said.
She informed us that almost all students in her school got employed. "I am very proud of them. I personally believe that this is so because they are not affected by the comments of other people. As there is no external interference, they can do their work peacefully," she remarked.
"Deaf children are very aggressive. They have no way of releasing their feelings. So we need to understand their situation," she noted.
Unawareness
In her three-year tenure as the principal of the school, she has observed that awareness in respect to disability was very low in the country.
"Most parents bring their children when they are six or seven years old. Children should be directed to speech therapists as early as possible. This is crucial to their well-being. Doctors, nurses, social workers, family health nurses as well as ENT surgeons should work as a unit to make parents aware of this situation," she said.
"If a child does not know to lip read and to read and write, then it is hard to survive," she added. They are unable to access state service or even meet a doctor without a sign language interpreter. There have been instances where deaf people lost their way and were unable to communicate their problem.
"Don't look at our disability. We are capable too."
At a press briefing on the International Day of Persons with Disabilities, Brian Susantha, a hearing impaired individual, asserted through a sign language interpreter that disabled people should receive equal rights so as to lead a dignified life.
"Are disabled persons animals? It is true that we get benefits such as the Rs. 3,000 fund. But should we be condemned to live the life of a beggar? What about our education? What about our dreams to become a teacher or doctor and serve the community? The Education Ministry should look into this. It is never done. We want to improve the quality of our life. Society often points out at our limitations. But please don't look at our disability. Give us a chance. We are capable too," he said.
The physically impaired

No wheelchair-accessible toilets in hospitals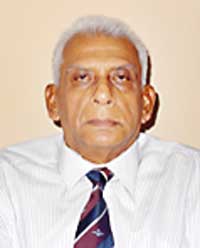 Cyril Siriwardene, the President of the Sri Lanka Foundation of the Rehabilitation of the Disabled, has been a wheelchair user for the past 36 years following a road accident that damaged his spinal cord.
"Speaking from my own personal experience, I can attest that there are no wheelchair-accessible toilets in government hospitals," he said.
Low standard of education
He added that education for the disabled was at a very low standard in Sri Lanka. "There are special schools for the intellectually-disabled. But other disabled students don't need special schools. They should enter the mainstream schools but most often they are unable to. The 2012 census has shown that 40% of children with disabilities have not received any schooling," he said.
"I can attest that there are no wheelchair-accessible toilets in government hospitals"
The mentally impaired



Employment and marriage
Champika Mahapatuna, the Principal of the Chitra Lane School for special children, said children with special needs also sought employment and got married.
"Our main aim is to provide an academic and vocational training, so they could become independent. Some parents don't allow such children to get employed, while some others, due to their economic status, allow them to," she said.
Children diagnosed with mental disorders such as down-syndrome, autism, hyper-activeness, behaviour disorders and cerebral palsy are moulded in the school. Adding that there was stigma attached to these children, she said they directed students for employment that suited their abilities and level of impairment.
Monthly fund of Rs. 3,000
She noted that special needs children did not receive the monthly sum of Rs. 3,000 which the disabled received. She further pointed out that the children followed the usual curriculum and the same text books distributed to non-disabled students.
Accessibility
Accessibility has been a major issue faced by disabled people worldwide. Developed countries have shown great progress in accessibility while Disability Rights Advocates point out that Sri Lanka lags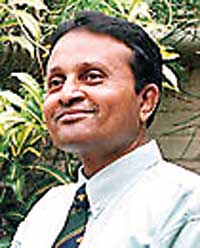 behind the implementation of accessibility regulations.
"People always focus on ramps when it comes to accessibility. But ramps are needed only by people using wheelchairs. The number of permanent wheelchair users is very small. Others can walk but with difficulties. Therefore, designing other parts of the building is equally or even more important," said Dr. Ajith C.S. Perera, a paraplegic who has been fighting for accessibility rights for over 17 years.
"The ramp in super markets is for trolleys containing goods and not for people"

"Cinema halls, art galleries and most restaurants are not accessible. Private schools do not accept wheelchair users. How many ATM machines in residential areas could be accessed by the elderly or wheelchair users? There are no proper toilets and basic facilities in sports stadiums though billion of rupees are spent on upgrading facilities," he added.
"The ramp in super markets is for trolleys containing goods and not for people. The ramp is found only on one side, though it should be on both," he noted.
He also said despite the international theme 'Tourism for All,' new hotels which deprived access to the disabled were coming up. Whether competent people review the systems in place in hotels is questionable as well.
"Though private sector hospitals claim to have proper accessible toilets, they don't meet the required standards," Dr. Perera said.
Disabled women
Rasanjali Pathirage of the Sri Lanka Foundation of the Rehabilitation of the Disabled said there were 922 000 disabled women in the country.
"This is more than 5% of the total population. Women face difficulties due to class differences and male chauvinism. Apart from these obstacles, disabled women suffer because of their disability. The Protection of the Rights of Persons with Disabilities Act of 1996 established a national committee as well as a secretariat for the disabled under the Social Empowerment Ministry. But for the past twenty years, they have done nothing for the welfare of the disabled woman," she said.
Unemployment
Substantiating her statement, she said 71% of disabled women remained unemployed. "So how do these women live respectfully with their families? There's a ministry and a committee for women. But the disabled woman is not represented anywhere," she claimed.
She added that disabled women should be included in the committees. "We should be allowed to take decisions for ourselves. But decisions are made on our behalf by people who are not disabled," she added.
Legal framework

Protection of the Rights of Persons with Disabilities Act
Many Disability Rights Activists point out that the Protection of the Rights of Persons with Disabilities Act No. 28 of 1996 has proved to be futile as its clauses have not been implemented in the past twenty years. They also note that currently there are no institutions that can be held accountable for monitoring and implementing policies related to the rights of the disabled. In this light, they emphasize the importance of a mechanism that can coordinate issues through all ministries.
"At the moment, issues related to the disabled come under the purview of the Social Empowerment and Welfare Ministry, but we can't restrict this duty to one entity alone as the issues concern other ministries as well," said Cyril Siriwardene, the President of the Sri Lanka Foundation of the Rehabilitation of the Disabled.
They believe that mechanism in place should be under the purview of a cabinet head and should be monitored independently. \
"Issues related to the disabled come under the purview of the Social Empowerment and Welfare Ministry, but we can't restrict this duty to one entity alone"
Accessibility Regulations
Accessibility Regulations of October 17, 2006 were unanimously passed on March 20, 2007. However, Disability Rights Activists point out that there has been little execution of the policies and a large number of public buildings were not accessible to the disabled.
"Public buildings are not just government buildings, but any structure used by the general public," Dr. Ajith Perera explained. According to the Accessibility Regulations, doorways, corridors, steps, toilets, ramps, car parks, pavements, public roads and pedestrian crossings, hand rails and grab bars, lifts and elevators, bus stops as well as railway stations should be designed according to specified requirements.
Government circular on employment rights
"There is a government circular which says 3% of employment opportunities should be given to the disabled. But this is not implemented yet. Even a court order given by an apex court is not adhered to by even the ministries. When government institutions don't respect the Supreme Court order, how can they expect the public to obey the law? This is where the law breaks down," Dr. Perera added, pointing out that unemployment led to poverty.
"There are no infrastructure improvements, tax concessions or relief for disabled people who are worse than senior citizens in the budget," he noted.
The United Nations Convention on the Rights of Persons with Disabilities (UNCRPD) was adopted on December 13, 2006, and Sri Lanka ratified it on February 8, 2016. As Sri Lanka has now pledged to act in accordance with international law, disability rights activists indicate that laws and policies will have to be redone while existing laws should be implemented. Dr. Perera urged the President and Prime Minister to get the advice of the disabled when making decisions, policies and laws.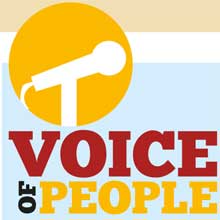 "Since I graduated, I have not been employed"


- Kasun Chamara
from Matara
"My mother used to take me in a trishaw or a friend's vehicle to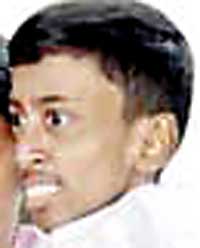 university those days. Before I received a wheelchair, my mother used to carry me. Since I graduated, I have been unemployed. Jobs require a degree with a class. But I don't have a class. We don't have a different class to be judged under," said Kasun Chamara, a university graduate who has been suffering from a muscle growth disorder by birth.
"My in-laws sent me back home for being disabled"


- Nisansala Sajini from Wariyapola
Nisansala Sajini and Dilini Sewwandika are myopathic sisters. Myopathy affects one's limbs and upper arms. The disease has rendered them weak so that they can't perform day-to-day activities. "I got married when I was 19. Though my husband and his family knew about my disability, after we got married, they scolded me for being disabled and sent me back home," said Nisansala. However, she noted that her community has been very supportive.
"I am unemployed as I am disabled"


- Sanjaya Sandaruwan from Wennappuwa
"I want to start a business where I can distribute packets of bites to shops. But I need a lot of money to set up this business. Currently I am unemployed as I am disabled, and it has been difficult to raise the money," said Sanjaya Sandaruwan, a 33-year-old who has been visually impaired following an acid attack.
"My mother-in-law used to scold me saying I couldn't walk or do anything"
- Dilini Sewwandika from Wariyapola
"My husband used to get drunk and beat me. When I complained to my mother-in-law, she used to scold saying that I couldn't walk or do anything," said Dilini Sewwandika.