---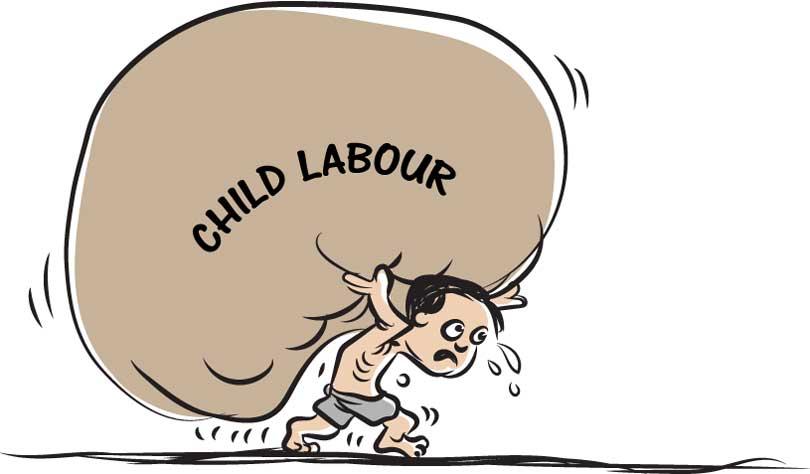 Child labour does not appear to be a serious problem in Sri Lanka. But social volunteers in their research have found that many wealthy families force children to work for them. Most of these children are from remote villages or estate areas. They are often not paid, not given basic education facilities, proper food or healthcare. The Government needs to find how many children are in this horrible situation because a religious leader has said when harm is caused to children the responsible or irresponsible people should be thrown into the deepest sea with a millstone tied round their necks.

On June 12, the United Nations marks the World Day Against Child Labour with the theme being "universal social protection to end child labour. In a statement, the world body says this year's theme calls for increased investment in social protection systems and schemes to establish solid social protection floors and protect children from child labour.

According to the UN, while significant progress has been made in reducing child labour during the last two decades, progress has slowed over time, and it has even stalled during the period 2016-2020. Today, 160 million children are still trapped in child labour – some as young as five. Government social protection systems are essential to fight poverty and vulnerability, eradicate and prevent child labour. Social protection is both a human right and a potent policy tool to prevent families from resorting to child labour in times of crisis. However, as of 2020 and before the COVID-19 crisis took hold, only 46.9% of the global population were effectively covered by at least one social protection benefit while the remaining 53.1% – as many as 4.1 billion people – were left wholly unprotected. Coverage for children is even lower. About three quarters of children, 1.5 billion, lacked social protection. Significant progress towards ending child labour requires increased investment in universal social protection systems, as part of an integrated and comprehensive approach to tackle the problem.

Stressing the prevalence of child labour, the UN says Children around the world are routinely engaged in paid and unpaid forms of work that are not harmful to them. However, they are classified as child labourers when they are either too young to work, or are involved in hazardous activities that may compromise their physical, mental, social or educational development. In the least developed countries, slightly more than one in four children - ages 5 to 17- are trapped in labour that is considered detrimental to their health and development.

Africa ranks highest among regions both in the percentage of children in child labour - one-fifth - and the absolute number of children in child labour - 72 million. Asia and the Pacific ranks second highest in both these measures - 7% of all children and 62 million in absolute terms are in child labour in this region.

The Africa and the Asia and the Pacific regions together account for almost nine out of every ten children in child labour worldwide. The remaining child labour population is divided among the Americas (11 million), Europe and Central Asia (6 million), and the Arab States (1 million). In terms of incidence, 5% of children are in child labour in the Americas, 4% in Europe and Central Asia, and 3% in the Arab States.

While the percentage of children in child labour is highest in low-income countries, their numbers are actually greater in middle-income countries. 9% all children in lower-middle-income countries, and 7% of all children in upper-middle-income countries, are in child labour. Statistics on the absolute number of children in child labour in each national income grouping indicate that 84 million children in child labour, accounting for 56% of all those in child labour, actually live in middle-income countries, and an additional 2 million live in high-income countries.
One of the world's greatest statesmen Nelson Mandela has said there can be no keener revelation of a society's soul than the way in which it treats its children. Albert Einstein, one of the greatest and most influential physicists of all time, says the pursuit of truth and beauty is a sphere of activity in which we are permitted to remain children all our lives. According to famous American singer and actress Whitney Houston, we need to be aware that children are our future. We need to teach them well, let them lead the way and show them all the beauty they possess inside.