---
By W. Hubert Fernando
More than 50 garment factory employees in the Katunayake Free Trade Zone (FTZ) took ill after having their dinner and were admitted to the Negombo Base Hospital.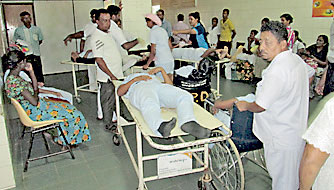 A senior official of the hospital police post said that 52 workers had been admitted to the hospital last morning.
The patients said that they became ill after consuming the meal served to them for dinner and drinking water and they suspect the cause for the sudden illness was due to drinking water. They had developed nausea, headache, stomach ache and dizziness after dinner.
A spokesman for the hospital said that most of those who were admitted were in a critical condition.