---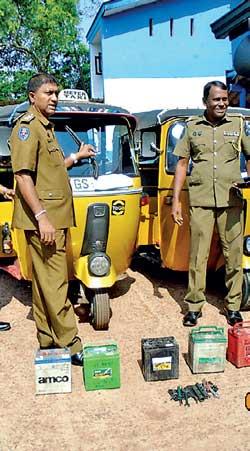 By H.M.Dharmapala and Kusal Chamath
A suspect wanted in connection with the series of robberies in Kohuwala and Dehiwala areas was arrested and two stolen trishaws and other articles recovered by Kohuwala police during a search operation carried out at Kadawata in Dehiwala.

Motor vehicle batteries, tool kits, a TV set, were among the stolen articles recovered. The suspect was in possession of 1.750 grams of heroin at the time of arrest.

Investigations revealed that he had stolen five trishaws that had been parked near Kalubowila Hospital and Dehiwala Zoo. The motor vehicle batteries had been sold to a battery dealer in Karagampitiya. Police said the suspect was a drug addict who resorted to theft to find money for his addiction.

OIC Kohuwala Police CI Sanath Ranjith, Crime Branch OIC- SI- M.M.Siriwardene, carried out the search operation.