---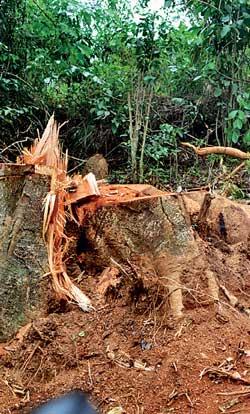 By Mahesh Kirthiratne - Matale
The illegal felling of trees in the Bambaragala Forest Reserve which forms a part of the Knuckles range, a highly sensitive environmental zone has been going on unchecked and the authorities including the police has failed to act on it thus far.

A top government official revealed yesterday. The Govt. Agent for Matale Karunasiri Perera said the wanton destruction of this highly sensitive environmental zone was going on unchecked that he had not received any information about the matter. The Rattota Police has also failed to take any action to quell the destruction in spite of being informed of it on several occasions by people from the area. During an inspection of the forest reserve he pointed out that massive trees some of which were over 200-years-old had been cut and removed by an organised group using sophisticated machinery and equipment.

The GA told the media that it was a mystery why the relevant authorities had not informed him regarding the ongoing racket. Residents of the area told the GA that they had informed the Ratthota Police about the ongoing illegal activity on several occasions to no avail. They requested him to provide round the clock protection to the Knuckles range which was a world heritage site. They said the racketeers had taken due advantage of the curfew to carry on felling and removing a large number of trees without any obstacle.

However,The Ratthota Divisional Secretary Dinipriya Herath said he had investigated the incident and initiated action against the racketeers under the Public Property Act.