---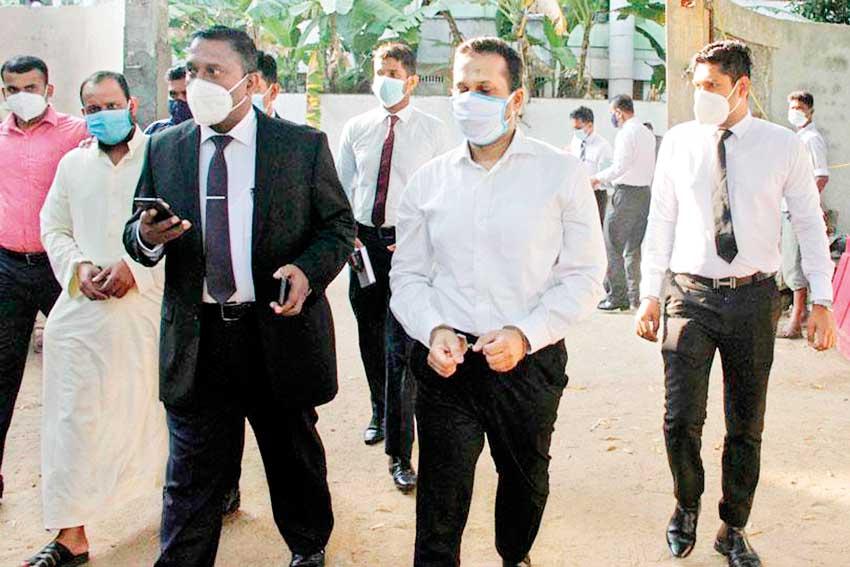 Hizbullah being brought to court on Feb 18, 2021
(Pic by Pradeep Dilrukshana)
Since the arrest, local and international lawyers and activists have pointed out that his detention by the Criminal Investigation Department (CID) was unlawful and undermined due process

Over a year has passed since Sri Lankan human rights and constitutional lawyer Hejaaz Hizbullah was controversially arrested and detained on April 14, 2020 under the Prevention of Terrorism Act (PTA) in connection with the 2019 Easter Sunday terror attacks that claimed 269 lives and injured many more.

Since the arrest, local and international lawyers and activists have pointed out that his detention by the Criminal Investigation Department (CID) was unlawful and undermined due process. They also highlighted that Hizbullah is being targeted for his work as a constitutional lawyer and his advocacy on behalf of Muslims in Sri Lanka.

Despite the outcry, Hizbullah continued to be detained and questioned for eleven months. During this time he was denied proper access to his lawyers and family, and was reportedly kept in a cell approximately 6ft long, 3ft wide and 7ft high. After over ten months in detention—on February 18, 2021—Hizbullah was finally produced before a judge. "These are 100% utterly baseless and unjust allegations. We will 100% win this case," Hizbullah declared to media personnel gathered outside the court on that day. Eleven months after his arrest—on March 12, 2021—a case was ultimately filed against him at the Puttalam High Court under the PTA and the International Covenant on Civil and Political Rights (ICCPR) Act. The charges were that he had incited communal disharmony—a far cry from the initial claims of him being a terrorist and extremist theoretician.

In light of these events, Daily Mirror spoke to Hizbullah's wife Maram Khalifa—an Egyptian national and counsellor by profession—to get her side of the story.
I felt sorry at times for the people who worked there because some of them sympathised with us, yet were absolutely helpless because the orders came from higher up. Some even apologised for us having to go through it all - Maram (Hizbullah's wife)

High-stress pregnancy
Not surprisingly, the arrest and prolonged detention of her husband has taken a heavy toll on Maram. Being unfamiliar with the local systems and languages, she underwent the added trauma of giving birth to their first child in November 2020 while her husband was behind bars. Recalling the ordeal, Maram said she had to spend 20-hours in labour and underwent an emergency C-section, which she attributed to the prolonged high stress levels she faced during her pregnancy. In the days before the delivery, the CID kept saying the investigations were being concluded, and Maram had hoped her husband would be there to attend the delivery. "We both prayed so hard for it, but it didn't happen. Nothing can replace a husband being there at birth; especially for our first child," she said. "As much as looking at and holding my daughter brought me joy, it was also very sad and depressing because I couldn't share that feeling with Hejaaz." said Maram.

After giving birth, she could only speak to her husband once, and that too was a short phone call just to check if she was alright. "I felt lonely having to be my own emotional support. It was the same for Hejaaz. He was also worried and lonely in a 6x3 feet cell, praying for my and our baby's good health and safe delivery, not knowing when he will be allowed to speak to me and what news he will hear." said Maram.

Fateful day
Recounting the day of the arrest, Maram said her last words to her husband before he left home were, "The path of justice is not the easiest but it is definitely the right one". The couple had known Hizbullah was being targeted and had discussed the matter. "My initial opinion was for us to leave the country until everything calmed down. Hejaaz refused, saying he didn't do anything wrong and had nothing to run away from," she recalled.

But seeing her husband in handcuffs and being mistreated and lied to was deeply distressing. "The way they treated me when I asked about the arrest warrant, how they meddled with his files and belongings, and lying to us about how long he was to stay there for questioning was extremely shocking and disgraceful. It felt like they had already made a decision that he was responsible for Easter Sunday attacks."

Emotional toll
According to Maram, her husband was not allowed a mattress or pillow in detention, and had to sleep on a mat on the floor. She found her visits to see him "emotionally consuming", having to sometimes wait for five hours in a mosquito-infested room for a 20-minute visit. "The long wait times were because the visits had to be manually approved every single time. Imagine having to go through such a process at eight and nine months pregnant," she exclaimed. Meanwhile, instructions of what items were allowed in were given on the day of the visit, and not earlier, adding to the hardships faced by visiting family members. "I won't tell you how many questions I had to answer to give him a nail clipper." she said.

Maram further divulged the officers had determined what they could and couldn't talk about, and there were always at least two officers eavesdropping and taking notes. Despite this, Maram felt sorry for some of the officers. "I felt sorry at times for the people who worked there because some of them sympathised with us, yet were absolutely helpless because the orders came from higher up. Some even apologised for us having to go through it all." she added.

In January this year, when Hizbullah was scheduled to be produced in court, it was suddenly announced that he had contracted COVID-19, and would be quarantined. The news shocked Maram, who rushed to court with their 6-week old baby. After waiting there about five hours she was told he would not be produced. "The days after that were the worst in my life. I simply wasn't sure if he was still alive or not. I couldn't sleep for days until I received a call from him," she said, adding she was not given any information about the severity of his case, or which hospital he would be transferred to. "I keep wondering till this day how he could contract the virus if he was kept isolated in a cell with visits suspended."

False allegations
Unfortunately Maram has also been the victim of prejudice and ignorance, and is being harassed for being an 'Arab'. "Some people are trying to paint a picture of me as an extremist and backward person, digging into my family history to try to connect me to terrorism, and telling people that it is 'suspicious' that Hejaaz is married to an Egyptian," she revealed. However Maram asserted Egypt is a moderate and multicultural country with a great history. "It is sad that people do not put effort into educating themselves about other countries and cultures before they throw others with false allegations."

Speaking of Sri Lanka, Maram said she loved how cheerful and friendly the people were, and how different cultures and religions lived here in harmony. "To the surprise of many people, my view has not changed," she said. "Sri Lankans are good and passionate people; it is only that this beautiful energy is misused and misdirected."
When asked what she had to say to those who might still see her husband as a villain, Maram said there was not much to say to people who were ready to make judgements without evidence. "I only wish the families of the victims of the Easter Sunday bombings and the injured find closure and peace. Nothing can ever bring back what they have lost. My heart goes out to each and every one of them."

Bedtime story
Despite going through what she has, Maram continues to maintain a high sense of justice, which is something she also admires in her husband. As a mother, she said: "Me and my daughter will go through what we have to go through courageously, for her father is not a criminal or a murderer, but a talented person who has always been successful."

Maram remains proud of her husband for standing his ground. "Going through this experience is a step on the road we chose to walk together," she stressed, adding their bond had grown stronger and made them believe more in each other. Poignantly, this experience has become a bedtime story for their baby daughter. "I am sure this experience will be a story to tell our daughter proudly, actually, it is already her bedtime story!" At the moment Maram is taking things one day at a time. "Right now, I am only living to see my husband out of prison and back home," she said, adding that as much as this experience has scarred them, it has also helped them grow and learn. "Today, we still believe that justice will prevail despite the efforts to frame him, and we pray for strength and patience."