---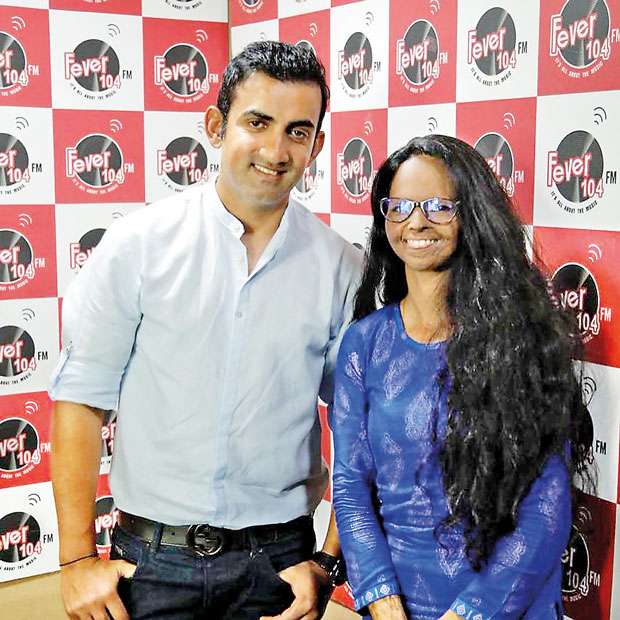 Gautam with Lakshmi, an acid attack survivor who he calls a hero
In this day and age, we are all aware that international sports stars are paid exorbitant amounts of money compared to that of the real-life heroes among us such as nurses, teachers and doctors. But one athlete is changing the perception that sportspeople spend all their cash on new cars and luxury holidays. Gautam Gambhir, the famous Indian cricketer, has been quietly helping people all around the country with his various initiatives. Earlier this year, he created a free community kitchen in Delhi under a campaign he called "Ek Asha"- with the aim that "nobody should sleep hungry". Growing up in Delhi, Gambhir was well aware that people were dying due to starvation and it was from here the idea for the community kitchen was born. Open between 1pm and 3pm daily, the kitchen will run 365 days a year to make sure people will always have access to at least one hot meal a day.

Gambhir also came to the aid of the families of the twenty-five Central Reserve Police Force (CRPF) personnel who were killed in an ambush by Maoists in the 2017 Sukma Naxal attacks in Chhattisgarh. Gambhir donated his IPL earnings to the families affected through his Gautam Gambhir Foundation (GGF), as well as paying for the entire education of the children who were affected by the tragedy. The children have been given access to post trauma-counselling and have also met personally with the cricketer and his family earlier this year for dinner and to watch the IPL T20 match together. Despite the tragic circumstances of the youngsters, they were overjoyed at meeting him. Ajay, son of late Head Constable Banna Ram, said, "I cannot describe this in words. He has done so much for us and to meet him in person is great."
Ajay, son of late Head Constable Banna Ram, said, "I cannot describe this in words. He has done so much for us and to meet him in person is great"

His charitable reach also extends to those in his beloved sporting industry that need a little help. Gambhir gave financial assistance to former 1998 Asian Games boxing gold medal winner Dingko Singh who was diagnosed with bile duct cancer and needed to have most of his liver removed. "It is really tragic the way we treat our sportspersons and it is disturbing to note that Dingko has been left alone to fight for his life," he told the Indian Express.

Gambhir has also come to the rescue in the past to help fund the struggling Indian ice-hockey team to allow them to take part in an international competition in Kuwait, in which they eventually came 2nd.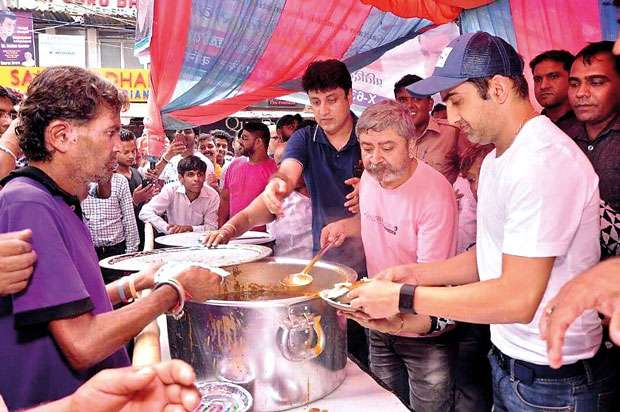 Gambhir's community kitchen

Gambhir is also an organ donor through the charity Gift a Life and upon the unfortunate event of his death - "I hereby pledge to donate my kidney, heart, liver, pancreas, small bowel, eyes, lungs and tissues after my death." Thousands die every year for want of organs and I feel through initiatives like 'Gift a Life' we can do society good by bridging the gap…I appeal to everyone to make this decision to donate their organs," added Gambhir.

His most recent contributions include an adolescent health, nutrition, hygiene and livelihood programme for girls in socially underprivileged areas with the importance of getting an education. According to the GGF "In 2013, 53% of adolescent girls (15 – 18 years) are under weight. This affects their cognitive development and progress into healthy individuals. It is also a matter of concern that less than 50% girls complete schooling. While 3.88% girls drop out at primary school, figures increase to 16.88% at secondary level, distressing their opportunity for independence and empowerment." Include tree planting projects and involvement in the World Day against Child Labour, Gambhir certainly gives us hope that our sporting idols can put their earnings to a cause that benefits the whole community.

Without hardly any publicity surrounding these good deeds there's no doubt that Gambhir needs to be recognized as a local hero for the people of India, not only as a cricket legend but for his selflessness and caring attitude - especially towards the most vulnerable of society.

Source: Gautam Gambhir Foundation
Pic Source: Gautam Gambhir Instagram