---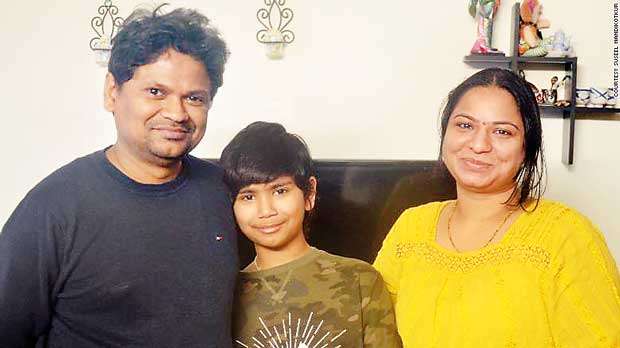 Pic Source : Suseel Kumar Nandikotkur
An 11 year old boy, originally from southern India, has saved a 34 year old man from drowning in their apartment block swimming pool.

Advaik Nandikotkur was spending time at the indoor pool with his family when he noticed a man sinking to the bottom of the pool, with eyes and mouth wide open.

Advaik's mother, Lalitha Mareddy, yelled for help as there were nine other people around the pool at the time, but none of them knew how to swim. It was at that time her son dived into the pool.

Weighing only 36 kg, he reached the bottom and somehow managed to drag the man (weighing almost double his size), to the surface of the water. With help from neighbours, they were able to pull the man from the pool.
"I've never heard of a boy jumping in and saving an adult from a pool"
Advaik's Uncle, Suseel Kumar Nandikotkur, jumped into action. Although not trained in CPR, he copied what he had seen in movies by pushing down on the unconscious man's chest and breathing into his mouth.

The man had started responding just as the paramedics arrived.

Speaking to CNN "I've never heard of a boy jumping in and saving an adult from a pool," said Eagan, Minnesota, Police Officer Aaron Machtemes.
"Officers on the scene commented the man was very lucky to be alive." Eagan Police also have nominated Advaik for the department's "Life
Saving Award."

The family had only been living in the USA for three years and Advaik's parents had enrolled him for a few lessons as "some survival skills for his own sake," his father told CNN.

It has certainly paid off, with their neighbour making a complete recovery thanks to the Nandikotkur family.

Advaik said he felt relieved that despite his youth he was able to help.

"I just had that hope in me," he said.