---
60% of revenue target reached by end-August
Sri Lanka Customs (SLC) is on the path to reach the revenue target of Rs.715 billion set for the year in the budget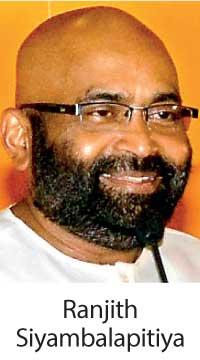 2022, which is in line with the mid-term goal to increase state revenue to 15 percent of GDP from the current 8 percent.
"We asked SLC to collect Rs.715 billion revenue in the last budget. I'm happy to announce that SLC has been able to reach 60 percent of this target as of 31st of August, which means we can reach the target of Rs.715 billion by end of this year," State Minister of Finance Ranjith Siyambalapitiya said.
He made these remarks during the maiden visit to the SLC headquarters last week after being appointed the State Minister of Finance.
Siyambalapitiya outlined that reducing fiscal deficit by increasing state revenue remains a key priority of the government in order to contain inflation.
"Our entire state revenue is around Rs.1.4 trillion, but state expenditure amounts to a staggering Rs.3.5 trillion. In other words, the state expenditure is 240 percent of state revenue. If we continue to print money, the inflation will continue to rise. Therefore, it's the responsibility of the government to increase state revenue," he elaborated.
Further, he noted that government revenue has fallen since 1995 when it stood at 25 percent of GDP to 8 percent of GDP last year.
He stressed that the government is committed to increasing state revenue to 15 percent of GDP in the medium term, which is also in line with the targets stipulated in the envisaged IMF programme.