---
By A.S. Fernando
In the previous article, we discussed the three phalanges of the thumb in some detail. In this article, we propose to discuss the thumb as a whole. According to Indian palmistry experts, the thumb falls into three main categories. They are:
1. Obtuse-angled Thumb
2. Right-angled Thumb
3. Acute-angled Thumb
---
1 Obtuse-angled Thumb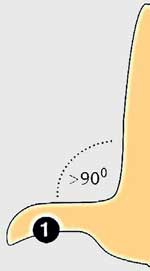 This thumb makes an angle between 90 and 180 degrees with the Index Finger. This thumb is long and thin. The person having this thumb is sober and gentle. These persons are often artistes and musicians or those performing some work useful to the society.

These persons, despite a childhood of hardship, would succeed in life due to will-power and perseverance.

However, an unusually long thumb is not considered lucky. If the tip of the thumb extends beyond the second phalanx of the Index Finger, the owner lacks intelligence to make his life a success. If the thumb is not too long and is proportionate, the owner would be an intelligent and pragmatic person and a lover of arts. He would put service to the community before self.
---
2 Right-angled Thumb
This thumb forms a right angle with the Index Finger. This kind of thumb looks like a pillar and does not lean backwards. The owner of such a thumb believes in working rather than in talking. Such persons dislike gossip. They are hot-tempered, but quickly cool down. They are vindictive. They are either good friends or bad enemies.

Right-angled thumbed people are patriots and are prepared to make the supreme sacrifice for the country. They do not make good subordinates, because they do not like to work under others.
---
3 Acute-angled Thumb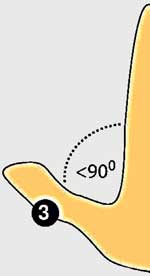 This thumb makes an angle of less than 90 degrees with the Index Finger. This thumb is comparatively short. The owner of such a thumb is an uncouth and evil-hearted person who is always in a state of frustration. These persons are lazy and would call it a day when a job of work they undertake, is only half-done. However, they are not lazy when it comes to carrying out an illegal or evil deed. They spend far in excess of their earnings and seek to make money by unfair and unscrupulous means. These persons seek the company of cheap women to satisfy their sexual desires. All in all, a personshaving an acute-angled thumb is not an asset to the society.