---
Theresa May is said to have revealed the date she will quit as Prime Minister - giving herself two years to see Brexit through first.

She has chosen Friday August 30th 2019 as the day she will step down from 10 Downing Street, it has been reported.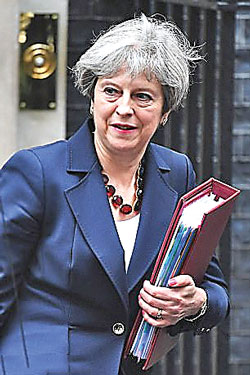 It comes amid a major charm offensive by Mrs. May in a bid to win the support of her MPs and avoid an awkward leadership challenge.

The Prime Minister has been inviting groups of 15 Tories to her official Chequers country residence - handing them prosecco and homemade chocolates at the door as they arrive, according to the Mirror.
Already more than a dozen Conservative politicians are said to have pledged to sign a letter calling for Mrs May to step down - although that falls far short of the 48 signatures needed to trigger a new leadership vote. One Tory MP said: 'It's clear she won't lead us into another election and will be gone by September 2019.

'She invited MPs to Chequers to ensure there isn't a ­leadership contest in the meantime.' But Downing Street has poured cold water on the reports, telling MailOnline: 'We have hit peak silly season.'
UK, (Daily Mail), 26 August 2017 -