---
For the second consecutive year, Gamer.LK, the country's multi-genre video gaming community powered by digital entertainment enthusiasts, brought the thrill and excitement of eSports to the university level, with Inter-University eSports Championship 2017 – powered by Dialog Gaming.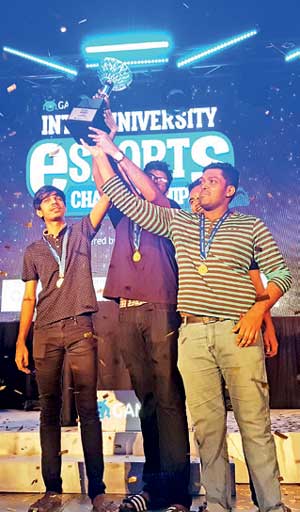 The doors were opened to all students representing universities and educational institutes in Sri Lanka. Students from all the leading government and private universities and educational institutes such as the University of Colombo, University of Peradeniya, University of Jaffna, SLIIT, IIT, ICBT, eSoft, ACBT, General Sir John Kotalawela Defence University, NIBM, NSBM and many more including fan-favourites and champions of the 2016 Championship, APIIT, participated and were well-prepared to bring pride to their alma-mater in the field of eSports. Over 40 universities took part in the championship, which was held recently at Trace Expert City Bay 7.
The event organised by Gamer.LK was powered by Dialog Gaming and supported by the technology partner Omen by HP, exclusive energy drink Red Bull, official radio partner Kiss FM, digital media partner ReadMe.lk and audio-visual and lighting partner ElektroRevo.
The championship was declared open at the opening ceremony by the chief guest Information and Communication Technology Agency (ICTA) Programme Manager Sameera Jayawardena, who pledged their support and co-operation in taking eSports, game development and design forward in Sri Lanka.
Dialog Gaming Head Supun Jayasinghe and Raveen Wijayatilake from Gamer.LK joined the opening ceremony. The championship kicked off with matches being displayed on a giant screen at the venue as well as being live streamed by Gamer.LK on Facebook for viewers at home. The action and thrill of the matches across eight competitive titles were brought to life with live commentary by professional eSports commentators in the country.
The winners at the main competitive titles were: Call of Duty 4 Modern Warfare – NSBM, Dota 2 – APIIT, Counter Strike: Global Offensive – ICBT, League of Legends – EduLink, Mortal Kombat XL – ANC, FIFA 17 – APIIT, Project CARS – ICBT and Clash Royale – ACBT.
In addition to the main competitive titles, Dialog Gaming featured Special Force 2, a new gaming title with a free-for-all contest open to all participants and visitors. Daily winners walked away with 200GB (winner of a Deathmatch solo) and 1TB (winning team of a 5v5 Deathmatch) of Dialog 4G data on the two days, respectively.
HP launched its latest line of laptops, Omen by HP at the event. To celebrate the occasion they had a challenge in Mortal Kombat XL to score the best combo. The person scoring the largest and best combo walked away with a brand-new Omen by HP laptop. The winner of this contest was RaSsyCzaR representing ICBT.
After two days of nail-biting and exciting competitions, ICBT managed to secure the overall championship with a tally of two Gold medals and three Silver medals. APIIT and SLIIT came up as runner-up and second runner-up.
The successful completion of the Inter-University eSports Championship marked the first of the three major competitions held annually by Gamer.LK for universities, schools and mercantiles. Up next are the Mercantile eSports and Inter-School eSports Championship, scheduled to be held in July and September this year.