---
VirtusaPolaris, the market-facing brand of Virtusa Corporation and Polaris Consulting & Services Ltd and a leading worldwide provider of information technology (IT) consulting and outsourcing services, was recognized for 'Excellence in Capacity Building' and 'Excellence in HR Practices' at the recently concluded SLASSCOM Awards 2016 in Colombo.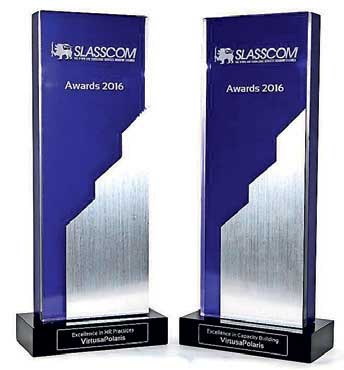 VirtusaPolaris was recognized in the Capacity Building category for the company's extensive work in corporate sustainability driven through VirtusaPolaris' Tech Reach, Digital Reach and Campus Reach initiatives. The HR Practices category honoured the company for its overall practices in human resources and personnel management.
Organised by the Sri Lanka Association of Software and Services Companies (SLASSCOM), the awards aim to recognize the tireless efforts by organisations and individuals in striving to meet industry objectives of US $ 5 billion in revenue, 200,000 jobs and 1,000 start-ups by 2022.
"We are honoured to be recognized by SLASSCOM for excellence in HR practices and capacity building. Reimagining the digital future for some of the world's largest enterprises, our teams constantly bring global best practices into the country, not only to help enrich know-how but also to support our focus on sustainable contribution to the community. We have also had the privilege of partnering with educational institutions and industry bodies like SLASSCOM on engaging the next generation of talent, apprising them of the opportunities available and enabling them to develop skills required by the industry. Such accolades further strengthen our resolve to continue working with all stakeholders on realizing the government's vision of establishing Sri Lanka as the region's foremost high value IT services hub," said VirtusaPolaris Executive Vice President/CIO/Head of Business Excellence and General Manager Madu Ratnayake.
Commenting on the award for 'Excellence in HR Practices', VirtusaPolaris Senior Director Human Resources Chandi Dharmaratne said, "We firmly believe that our team members are our greatest asset. Their ingenuity and tireless efforts help us constantly push boundaries and reimagine the digital landscape of the industry we operate in. We are committed to providing our team members with an engaging work environment that nurtures continuous learning and growth and are honoured to be recognized for these practices at this esteemed forum."
This latest award for HR is a reaffirmation of VirtusaPolaris' progressive and modern HR practices which have been awarded the 'National HR Excellence Gold Award' by the Institute of Personnel Management (IPM) Sri Lanka at the recently held National HR Conference. VirtusaPolaris was also recognized for 'HR Excellence Through Technology' at the Global Best Employer Brand Awards 2016 held in Mumbai.
SLASSCOM acts as a catalyst of growth for the Sri Lankan IT and BPM industry by facilitating trade and business, propagation of education and employment, encouragement of research and innovation and by supporting the creation of a progressive national policy framework.