---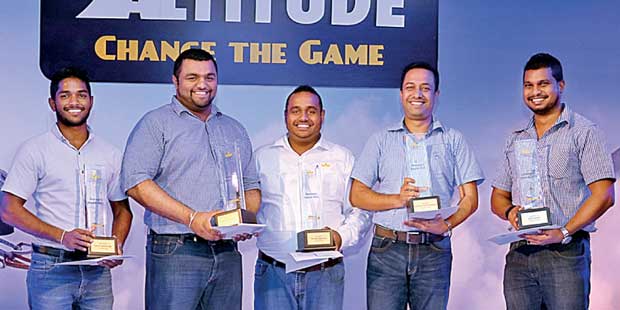 As part of its employee motivation initiative, Ceylon Tobacco Company (CTC) honoured its Route-to-Market team with the company's much-coveted Chairman's Award for 2015, recognizing their unprecedented efforts in implementing a fully integrated system for its distributor staff.
Regarded as the highest honour to be bestowed in the company, the Chairman's Award acknowledges significant contributions impacting the company's overall
business agenda.
The Route-to-Market team was at the forefront in the development and implementation of the Sales Force Automation (SFA) system, which transformed the company's billing system from manual to automatic and electronic. Carried out in phases across the spectrum of 38 local markets, the process involved dynamically training staff members including 16 distributors and 372
sales representatives.
"I am proud to acknowledge that CTC is one of the first markets in the British American Tobacco group to implement the SFA system. The Chairman's Award is indeed a testament to the great team effort that went into this project and I am very grateful to all those who contributed towards its success," said CTC Head of Marketing
Kavinda Nanayakkara.
A distinctive feature was that this vital project was implemented, without interfering with normal business activities whilst successfully meeting the specified timelines for each market segment. This system now enables employee access to real-time, faster and more accurate information, thereby improving the overall efficiency of the organisation. It was indeed a proud moment for the entire team, marking a significant milestone in their career and enabling them to further work together towards a common goal. The team behind the success was Dinsuhka Jayatissa, Irfan Ibrahim, Tharindu Wijeratne, Charles Sundarasingh and Esala Tennekoon.
"In over 100 years of successful operations in Sri Lanka, CTC has continued to place great emphasis on change and innovation as a way of life. We have understood that adaptability in response to changes in the external environment is vital to contribute effectively to economic, environment and social sustainability. To ensure continuity of excellence it is therefore imperative that companies today adapt effective strategies and processes in line with this," explained CTC Chief Executive Officer and Managing Director Michael Koest.
CTC continues its record as one of the few organisations where change initiatives are met with due recognition and acceptance. The company will continue to inspire and motivate employees to work in cohesion, encourage progressive thinking and promote a fixed focus on a common set of goals.