---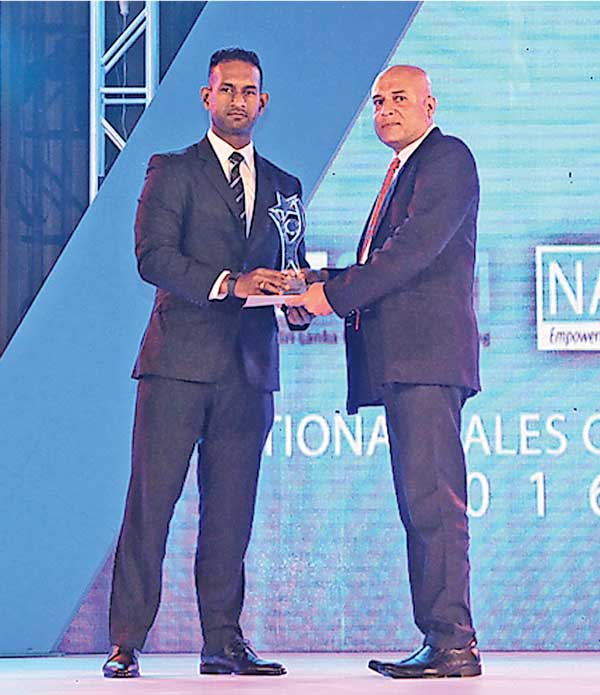 Airtel frontline's strategies and market instincts were commended when Airtel sales team won the Bronze award at the prestigious SLIM NASCO Awards 2016, which recognizes sales excellence by rewarding some of the best sales personnel in the country.

Bharti Airtel Lanka, a subsidiary of Bharti Airtel - the world's third largest mobile operator (in terms of subscribers), serving over 359 million customers in 18 countries across Asia and Africa, proudly announced that Territory Manager for Kandy Chaminda Weraka Bandara won the Bronze award for the Best Territory Manager under the Telecommunications category at the recently concluded SLIM NASCO Awards 2016.
With over four years of experience at Airtel Lanka, Bandara possesses 15 years of sales experience in diverse industries such as lubricants, FMCG and telecommunications.
Commenting on this achievement, Bharti Airtel Lanka Chief Executive Officer Jinesh Hegde stated, "We are extremely proud that we were able to gain this award for the fourth consecutive year and sustain our leadership at a national level. We sincerely hope that this success will motivate all sales personnel to strive for sales excellence across various markets. I offer my congratulations to Chaminda and look forward to his continuous professional excellence in the field of Sales."
SLIM NASCO 2016 - the premier event in Sri Lanka that recognizes sales excellence and rewards and motivates sales professionals to achieve greater heights, gave out awards to over 15 diverse business sectors. In addition to Gold, Silver and Bronze awards, the best female was also recognized in each category. All area/territory managers, sales supervisors/executives and sales representatives/frontliners were entitled to participate. The 2016 event saw over 500 applicants vying for honours this year.

Airtel Lanka's strong 'people'-oriented policies have been lauded by the Great Places to Work (GPTW) Institute when the company was adjudged the Best Multinational to work for at the recently concluded GPTW awards ceremony 2015.
The company also received a Gold award at the People Development Awards 2014 organised by the Sri Lanka Institute of Training and Development (SLITAD) and a Silver award at the HRM Awards 2012 – organised by the Association of HR Professionals in partnership with content partner AON Hewitt India.