---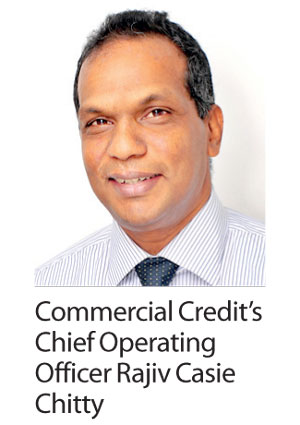 Commercial Credit was declared the national winner in the Marketing Company of the Year 2016 category by the Asian Marketing Federation (AMF), the foremost governing body of marketing in Asia at the 2nd Asian Marketing Excellence Awards (AMEA) which was held recently in Seoul, South Korea.

Commercial Credit won the award for showcasing the many innovative marketing strategies the company had employed during this year, which contributed to the growth of the company and its employees.

"This award recognises the innovative marketing strategies, tactics and values that Commercial Credit continues to uphold. The awards further demonstrate that these elements result in sales growth, market share and net income, which is a significant milestone in our journey", said Commercial Credit's Chief Operating Officer Rajiv Casie Chitty.

"The AMF Asia Marketing Excellence Award is an award giving body that gives the highest recognition for marketing excellence in the Asian region voted upon by the AMF member countries", said Gwen Albarracin, 1st Vice President of the Asia Marketing Federation who is overall Chairman for this project.

The AMF member countries include Bangladesh, Cambodia, China, Hong Kong, Indonesia, Japan, Korea, Malaysia, Philippines, Singapore, Sri Lanka, Taiwan and Thailand. These Excellence Awards are awarded to companies who stay ahead of the evolution in marketing.
"We congratulate and extend our warmest wishes to M/s Commercial Credit & Finance PLC for bringing honor to them as well as to Sri Lanka by winning an award under the category "Marketing Company of the Year- ASIA" awarded by the "Asia Marketing Federation (AMF)" at the recently concluded "Asia Marketing Excellence Awards- 2016" in Seoul, Korea. This recognition is indeed a testament to their prowess", said Sanath Senanayake, CEO/Executive Director of the Sri Lanka Institute of Marketing (SLIM).

"SLIM is proud of this achievement being a member of the Board of Management of AMF, the apex body in Asia for marketing. Commercial Credit & Finance PLC had the opportunity to vie for awards, being the winner of the "Brand of the Year" at SLIM Brand Excellence. We wish them success in all their future endeavours", he added
This year's AMEA was hosted by the Marketers Society of Korea (MASOK) in Seoul, South Korea parallel to the AMF Annual General Meeting and the MASOK International Conference. The overall Chair of the project was AMF Vice President Gwen Albarracin from the Philippines and the Co-Chair was Rohan Somawansa, AMF Vice President from Sri Lanka.

Judging for the ceremony was completed in Bali last June by a panel headed by one of the most respected professors in marketing in Asia, Syed Ferhat Anwar from the Marketing Society of Bangladesh (MSB). Other judges include prominent figures such as Chalit Limpanavech from the Marketing Association of Thailand (MAT), Masaaki Ishibashi from the Japan Marketing Association (JMA), Hendra Warsita from the Indonesia Marketing Association (IMA), Prof. Boojong Kim from the Marketers Society of Korea (MASOK), Gantulga Sukhbaatar from the Mongolian Marketing Association (MMA), Pradeep Edward from the Sri Lanka Institute of Marketing (SLIM) and Henry Tenedero from the Philippine Marketing Association (PMA).
Asia Marketing Federation is the networking body of marketing associations in Asia. Originally founded in 1991 as the Asia Pacific Marketing Federation (APMF) and was renamed as Asia Marketing Federation in 2007. AMF has a critical mission as the premier regional body which effectively promotes the interests of marketing in Asia in general and strengthens the Asian marketing fraternity.
Caption