---
By Dayana Udayangani and Kamanthai Wickramasinghe
"In the event of Mahinda Rajapaksa contesting for presidentship without amending the Constitution, everything possible would be done to defeat him," said JHU MP Ven. Athureliya Rathana Thera the Convenor of National Council for "Pivithuru Hetak" (Pure Tomorrow) yesterday.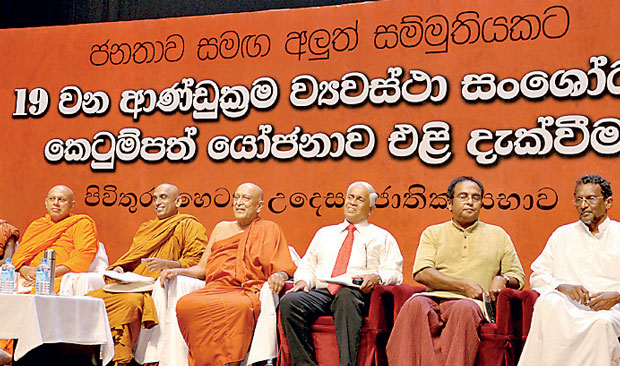 He also confessed that it was regrettable that he voted in support of the 18th Amendment, while representing the Government. The Ven. Thera expressed these views at the launch of the draft of the 19th Amendment to the Constitution prepared by the National Council of Pure Tomorrow.
The abolition of the executive presidency and the establishment of a Constitutional Alliance of a President and a Prime Minister, holding of both Presidential and Parliamentary elections at the same time, limiting the time period of the presidency to one term, disqualifying the President from becoming a member of a political party after being elected to the office, limiting the Cabinet to twenty five ministers are some of the proposals that are included in this draft.
This event was held with the presence of the convenor of the national movement for a just society Maduluwawe Sobitha Thera, Opposition Leader Ranil Wickremesinghe, Minister of Economic Development Basil Rajapaksa, Minister of Technological Research and Atomic Energy Patalie Champika Ranawaka, Senior Ministers Dew Gunasekera, Tissa Vitharana and several others including religious leaders and artistes.
The Ven. Thera said further that accepting these proposals and amending the constitution accordingly would permit the incumbent President to remain in power once more.
In the event of not effecting amendments to the Constitution and acting unilaterally to win at a presidential election, all opposition forces would be rallied round and every effort will be made to defeat the horoscope of Mahinda Rajapaksa and secure a victory of the masses, the Thera further said.