---
Better to forget the past and pardon everyone who had done wrong during the war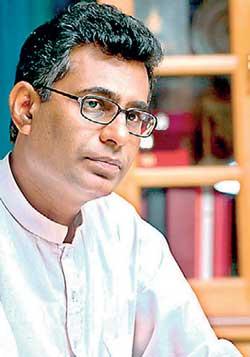 By Yohan Perera
It is better to forget the past and pardon everyone who had done wrong during the war while Sri Lanka should work towards defeating the UNHRC resolution through diplomatic means, SJB MP Patali Champika Ranawaka said yesterday.
Mr. Ranawaka told a media conference that Sri Lanka should work towards defeating the UNHRC resolution in some diplomatic way. "If any member of the Sri Lanka security forces members has committed a crime personally, that person should be tried within the local judicial system. We oppose an international probe and also stress that it is better to forget the past," he Mr. Ranawaka said.
"Sri Lankan officials in the Foreign Ministry in particular should embrace diplomacy and always speak in diplomatic language. I noticed the Secretary to the Ministry of Foreign Affairs speaking about the US President in an undiplomatic language. This is not a healthy move," he added.

"Also it is important that the Sri Lankan government keeps away from being hostile towards those who criticise key persons in the state," he stressed.
Further he said an issue arises with regard to the trying of Tamil youth who are held on suspicion while senior LTTE cadres such as KP and Karuna Ammann are allowed to move freely.
At the same time the MP said no one knows what the UNHRC resolution would be like although there are reports that say it had included both war crime allegations and on the issue with regards to burial and cremation of those who succumb to COVID 19.