---
Not a time to play adversarial politics
To discuss some of the major issues, it may be necessary for parliament to convene, but in an informal way. You have only about 20 members who are selected by the Speaker on the proportion to the members present
---
By Easwaran Rutnam
---
United National Party (UNP) Leader and former Prime Minister Ranil Wickremesinghe has proposed that the government introduce lockdown laws instead of a curfew.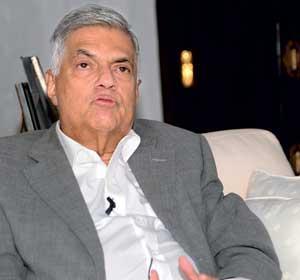 In an interview with Daily Mirror, Wickremesinghe said that lockdown laws will restrict movements but also ensure daily activities continue.
He also said that while lockdown laws are in place compulsory testing can be done on every household for the coronavirus.
"New laws have been passed even by the UK and European countries. They have quarantine laws, which they have updated even up to a few years ago, but they found it's not enough. So we can act on that," he said. Wickremesinghe reiterated that Parliament will also need to reconvene to pass the new laws, even for a short time.
"About 15 minutes in Parliament on one day and one hour thereafter hoping that no one challenges it in the Supreme court. There are also Constitution issues. Can we go on without parliament after three weeks? So I think it's better that we meet in private, the government and the opposition and try to settle it.
I don't think we should allow this to become a big controversy when we have so many other things to do and peoples lives, their food, their health, their income, all of that to look into," he said.
Wickremesinghe also insisted that there are no talks between him and the President to form a unity government.