---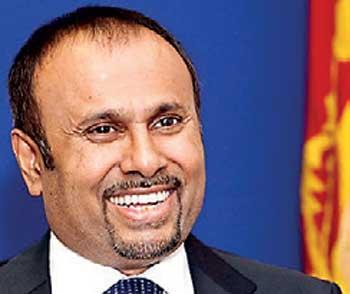 By Shehan Chamika Silva
Following the 'certificate' required under the Public Property Act (PPA) was filed in court by the CID, Fort Magistrate Ranga Dissanayake yesterday considered that suspect Udayanga Weeratunga could be kept in remand custody until the conclusion of the investigation, except for exceptional circumstances under the PPA.
When a person is produced before court for an offence committed under the PPA, the Police is required to file a certificate signed by an ASP with the suspect if the amount committed under PPA is above Rs. 25,000.

Earlier, the Fort Magistrate reprimanded the CID officials for behaving unusually as they failed to file the certificate when producing suspect Weeratunga in court on the last occasion. Deputy Solicitor General Thusith Mudalige yesterday informed the court that the CID have now filed the 'certificate' required under the section 8(1) of the PPA. He also said that the Attorney General had advised the CID to name another person, Nelum Duminda Mannapperuma (brother in law of Weeratunga) as the eighth suspect over the inquiry. Appearing for the suspect Defence Counsel contended that there were several discrepancies in the previous 'B' reports filed in the case. He said suspect Weeratunga was never involved in any cheating in the purchase of the MIG 27 agreement as he was not in the country when the alleged agreement was said to have signed in his presence. He also said that there was no evidence so far to suggest that his client received money from this agreement. He said that the then Commander of SLAF had visited Ukraine and obtained the 'factory acceptance certificate' over three aircraft. The Defence Counsel requested court to direct the CID to investigate those facts, as it would jeopardize his client's rights to fair trial. However, DSG Mudalige was of the view that the suspect was aware of the alleged agreement from the beginning and that in the offence of 'Conspiracy' to 'Cheating', there is no requirement necessary that he received money directly from the alleged deal.

Magistrate: Apparently, there is no response so far from the acting IGP regarding the question asked by the court. Has he informed about the possibility of reappointing the previous investigators?

Deputy Solicitor General: So far the acting IGP has not responded to us on that your honour.

Magistrate: I sent a letter, on February 17, 2020 asking only to inform the court over the possibility of such re-appointment, but no response so far.

DSG: Your honour, the Attorney General has also in his advise mentioned about this to the acting IGP earlier .

Magistrate: They might want to appoint a committee and decide on this as well (in a sarcastic manner).

This is really not acceptable. I don't understand what to do if the Police don't comply with the AG's advises as well the requests from the court.

DSG: your honour, it was reported to me that the previous investigator has been again transferred to the Jaffna region.