---
Total state revenue is hardly sufficient to pay salaries and pensions of public servants and interest on Govt. loans
Allocation of Rs. 10 billion to the Election Commission from the interim budget 2022 cannot be brought forward to 2023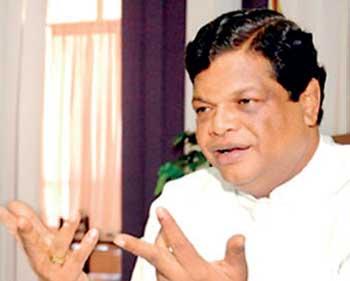 By Sandun A. Jayasekera
While saying that the government is in full gear to hold Local Government (LG) polls, cabinet spokesman, Mass Media, Transport and Highways Minister Bandula Gunawardana said funding the election was a problem under the prevailing economic meltdown in the country.
In response to Daily Mirror at the first post cabinet weekly news briefing of the year yesterday, Minister Gunawardana said the government, financially is in an extremely tight situation as the total state revenue is hardly sufficient to pay salaries and pensions of public servants and to pay interest to loans obtained by the government.

He said that the allocation of Rs. 10 billion to the Election Commission from the interim budget 2022 cannot be brought forward to 2023 as the remaining budgetary allocations have to be returned to the Treasury at the end of the year. However, the constituent partners of the government, the SLPP and the UNP have started interviews to select candidates for the LG polls and propaganda campaigns would begin soon after the nominations were accepted.

"We are ready and in preparation to contest the LG polls," he added.

Nevertheless, it is up to the Treasury to allocate funds to conduct the polls, notwithstanding financial constraints. The government has no intention whatsoever to postpone LG polls as suggested by the opposition, the aragalaya and trade unions, Minister Gunawardana added.
The government has no intention whatsoever to postpone LG polls as suggested by the opposition, the aragalaya and trade unions