---
Richard Pieris Finance Ltd, a fully-owned subsidiary of the renowned Richard Pieris Group and the sole financing arm under the renowned Arpico brand, recently revealed its plans to drive its network expansion in line with its digital journey.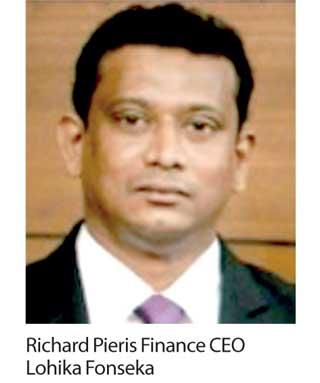 The company's digital journey was propelled following its inclusion as a member of the exclusive CEFT club, where only 26 banks and 14 finance companies have been authorised.

"We have shown a strong performance and increased growth trajectory in our financials, and made a profit-before-taxes of Rs.200 million, for the first half of the financial year 2021/22. With our branch expansion plan, we aim to open up three more branches around the country. We currently operate with 15 fully-fledged branches and we see much more potential for more locations," commented Richard Pieris Finance CEO Lohika Fonseka.

He further stated that the company's plans have been strategically aligned with its main objective of amplifying customer convenience and its current offerings, which include fixed deposits and savings, leasing, Islamic finance and business loans to name a few. Richard Pieris Finance will be implementing gold loan facilities through a new pawning service, which will be followed by a wider array of customer-centric products and services throughout the company's digital journey, according to Fonseka.

The company boasts of a deposit base worth Rs.9 billion and an asset base worth Rs.17 billion. Fitch Ratings Lanka has also revised the ratings of RPF's National Long-Term Rating from A-(lka) to AA-(lka), with a Stable outlook but this was mainly due to the recalibration of the corporate parent's National Rating.