---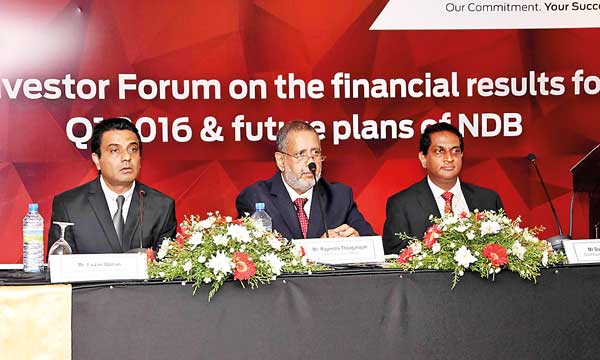 From left: NDB Group CFO Faizan Ozman, NDB CEO Rajendra Theagarajah and NDB Investment Bank CEO/Director Dharshana Perera at the NDB One Account launch
Expert financial planner NDB Wealth has taken a leadership role in promoting NDB Bank's revolutionary One Account initiative. NDB One Account is initially offered solely at NDB Bank's Nawam Mawatha Head Office in Colombo 02.

An innovative way to deposit, save, invest, withdraw and build financial plans, all in one place, at one bank, the NDB One Account is truly ahead of its time, allowing customers to evolve and grow their financial portfolio with ease. Starting with a simple current account, where they deposit their monthly income, the NDB One Account then offers options to speed up savings, by sweeping a pre-specified sum, which is in excess of one's monthly cash needs, into a high yield, highly rated (AA) Money Market Fund.

Additionally, NDB One Account customers have access to a NDB Bank debit card so they can make daily cash withdrawals, while a NDB Bank Visa credit card is provided as well, which also has lucrative deals on offer. Most important of all, once a good balance is built in the Money Market Account, customers have access to a simple retirement savings or retirement income plan, or can even create a financial plan for their children's education. All of which is supported by the NDB Group's state-of-the-art mobile banking and technology platform, so the NDB One Account is always accessible via laptops, smartphones, tablet PCs, etc.

Also noteworthy, as is the case with many of the funds managed by NDB Wealth, several financial plans offered as a part of NDB One Account continue to remain tax-free in the hands of the investor.
Commenting, NDB Wealth CEO Prabodha Samarasekera said, "NDB One Account is a true innovation in the Sri Lankan financial services industry. Not only does it offer the full scope of banking services from NDB Bank, it further ties in a very important smart investing core competency, via NDB Wealth's expert financial planning. This is essential to make your earnings fully work for you, especially in today's complicated world."