---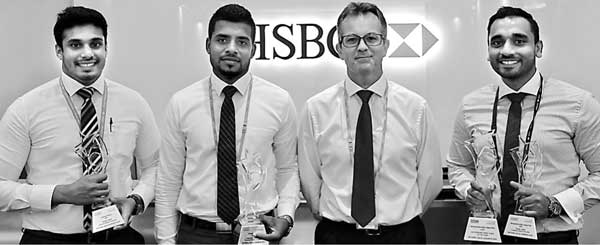 HSBC Sri Lanka was recognised with four national sales awards at the SLIM National Sales Congress – NASCO 2016.

Udaya Dias, Assistant Manager-Premier Acquisition was awarded two Gold Awards for the Best Front Line Sales Professional in Banking and Finance and the Overall Industry Gold Award for 2016, beating more than 30 short-listed candidates from all competing industries.
Thushan Perera, Business Development Officer, received the Silver Award for the Best Front LineSales Professional in Financial Services and Banking and Tyrone Vincent, Sales Manager-Loans won the Bronze Award for Best Territory Manager in Financial Services and Banking. This is a great achievement for the retail banking and wealth management team of HSBC and stands testament to the professional skills and ability of its staff who were identified among top professionals in the sales fraternity as high flyers in their chosen field and industry.
The NASCO awards presented for the 16th consecutive yearsaw a record number of 600 entriesthis year from top performers across all industries in the county.

Awards were presented across several sectors, including fast moving consumer goods (FMCG), financial services and banking, industrial, media, consumer durables, telecommunication, fashion and clothing, healthcare, modern retail, travel and leisure, insurance, alcohol and tobacco and corporate selling.