---
Amana Bank PLC, Sri Lanka's first non-interest based Islamic bank, saw its net profit for the quarter ended September 30, 2016 (3Q16) falling by 10.5 percent on year to Rs.45.3 million or 4 cents a share, as the bank shifted from its earlier practice of providing for income taxes at the end of the year to quarterly tax provision, the interim results showed.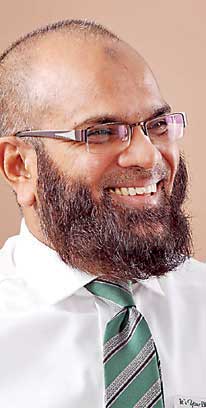 The profit before tax for the same quarter was however rose by 24.2 percent Year-on-Year (YoY) to Rs.62.9 million.
The performance was supported by the core-banking operations as the bank's net financing income (NFI) rose by a strong 40.6 percent to Rs.533.5 million from a year ago.
The bank's financing and receivables or loans in general banking context rose by 13.8 percent or Rs.4.6 billion during the nine months while the deposits rose by 17.6 percent or Rs.6.8 billion.
As of September 30, the bank had a total financing and receivables base of little under Rs.38 billion while the deposits stood at Rs.45.4 billion.
The bank maintains a current and savings account (CASA) base of over 50 percent.
The net interest margin (NIM) remained unchanged at 3.6 percent during the nine months.
Amana Bank has an asset base of Rs.53 billion, which is a 10.8 percent increase from December 2015.
Amana Bank was among few small and mid-sized banks in the industry to receive the Central Bank nod this year for an extended time frame to raise its minimum core capital levels up to Rs.10.0 billion.
In July 2015 the Central Bank granted approval for the bank to increase its core capital up to Rs.7.5 billion by January 01, 2017 and further up to Rs.10.0 billion in a year later.
By September 30, 2016 the bank's core-capital base stood at Rs.5.2 billion.
While doubling the existing capital base within a year itself appears to be a daunting task, it is still not known how Amana Bank would again double its capital up to Rs.20.0 billion if the Central Bank issues directive in that direction following the budget proposal to that effect.
Amana Bank has the backing of Bank Islam Malaysia Berhad, AB Bank in Bangladesh and The Islamic Development Bank based in Saudi Arabia who together account for 38.5 percent stake in the bank.
In October Fitch Rating Lanka affirmed the bank's BB rating with a stable outlook but it largely on the expectation that the bank would stay in line with the capital enhancement plan agreed with the Central Bank.
The bank's asset quality remains high as the gross non-performing loan ratio was at 0.93 percent.
Meanwhile, during the nine months ended September 30, the bank surpassed its Rs.100 million profit mark and posted a net profit of Rs. 101.5 million or 8 cents a share which is 16.3 percent less than a year ago.
However the profit before tax grew by 16.2 percent YoY to Rs.140.9 million. The NII rose by 29.5 percent YoY to Rs1.4 billion while the net fee and commission income grew by 20.7 percent on year to Rs.144.2 million.