---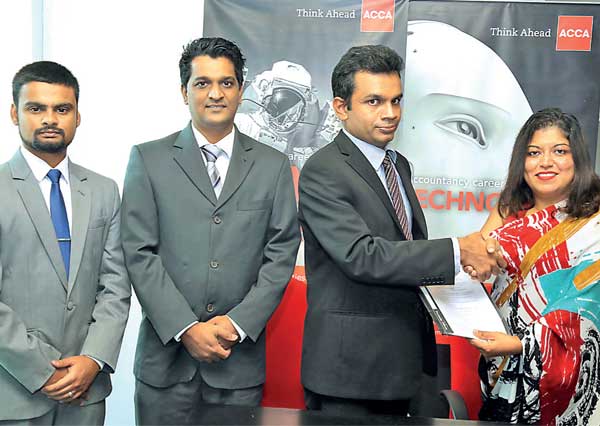 The Association of Chartered Certified Accountants (ACCA) has launched its Global Business Services (GBS) qualifications, a suite of three qualifications which is dedicated to finance and accounting in the shared services and GBS sector.

The syllabus specifically aims to introduce the learner to the business model of shared services and outsourcing, particularly in relation to financial operations, and how such models differ from and offer efficiency benefits over, traditional central function based service provision. It also aims to teach some of the key business skills needed in a
GBS environment.

With finance and accounting having been identified as one of the key areas of excellence in the GBS sector in Sri Lanka,ACCA recently signed a strategic partnership with the Lanka BPO Academy. The agreement entails the Lanka BPO Academy to offer ACCA's GBS (Global Business Services products) qualificationsto strengthen and foster the finance talent in the GBS Sector in the country and to enhance awareness among those interested to pursue a career in the GBS sector, in finance shared services.

This agreement was formalized at a signing ceremony, with the Head of ACCA Sri Lanka Nilusha Ranasinghe and Yasas Abeywickrama, Director of the Lanka BPO Academy.
Nilusha Ranasinghe said, "The GBS industry in Sri Lanka is on a trajectory for expansive growth, including in the finance and accounting services. Therefore, the ultimate aim of this partnership is to develop the accountancy and finance profession in the GBS sector in the country. With many multinational and local companies establishing their GBS operations here and with over 200,000 new jobs slated to be available in the sector by 2022, there is no better time for our young talents to build a successful and rewarding career in Sri Lanka' s
GBS industry".

Abeywickrama also underlined the significance of this collaborative agreement and added that it will be a major boost to the GBS Sector which has been identified as major player in the economic growth and transformational development of Sri Lanka.

"There is a high demand for finance professionals in the GBS sector and this prestigious partnership will help to accumulate more accountants to further enhance their skills and gain knowledge in the adoption of global standards in finance. We look forward to working together with ACCA on the key initiatives identified in our partnership agreement and to utilize this strategic collaboration to ensure Sri Lanka's feasibility and readiness to cater to an increased range of financial services under the GBS industry, and further solidify our position within the top most globally preferred locations for GBS."