---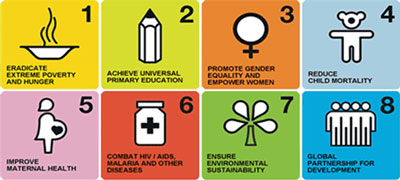 With 2 years to go for the 2015 Millennium Development Goal (MDG) deadline, Sri Lanka appears to have made notable progress in many fronts, particularly in areas of achieving universal primary education enrollment and water supply & basic sanitation (WSS), Asian Development Bank (ADB) showed.

Latest report released by the multilateral lender noted that average progress score in achieving universal primary education enrollment & continuing schooling until the last grade (identified as MDG 2) in Sri Lanka was on track despite the South Asian sub-region lagging behind other regions on this indicator.

"MDG 2 is on track, but progress on school completion is slow. The region does well in terms of universal primary education enrollment, with 28 of the 45 countries found to be early achievers. However, almost half of the countries in the region were already well positioned to meet the target, given the existing high levels of enrollment," ADB commented on the regional progress.

However, the report emphasized that quality of education was clearly an enduring problem for much of the region.

The total amount approved by ADB for Sri Lanka so far has been US $ 2,823 million while the total value of projects with MDG support has been US $ 1,193 million or 42.3 percent.

"ADB's direct support for MDGs in Sri Lanka, which generally comes out more favourably on human development indicators than its sub-region, was more toward MDG 7 (WSS), and its support for the education sector went to higher levels of education, assisting MDG 1 (full employment) and MDG 3 (gender parity in all levels of education)," the report said.

From the total amount of funds approved, 21 percent has been assigned for water supply & sanitation in Sri Lanka while the progress on this front has also been on-track.

Meanwhile, the Central Bank too highlighted Sri Lanka's achievements of many of the MDGs ahead of 2015 in areas of halving of poverty, promotion of gender equality and empowerment of women, targets on skilled birth attendance and antenatal care, reduction of tuberculosis prevalence and consumption of ozone-depleting substances.

The report which focuses much on Asia and Pacific region showed that the region accounts for two-thirds of the world's extreme poor with many living in the South Asian subregion. While the region has already met its target by halving the extreme poverty (US $ 1.25 per day), Asia has made less progress in addressing MDG 1C of halving the proportion of people suffering from hunger by 2015.

Sri Lankan authorities claim poverty in the country declined from 15.2 percent in 2006/07 to 8.9 percent by 2009/10.

"While income and hunger would appear to be linked, it is interesting to note that many countries in Asia and the Pacific have been able to reduce income poverty (from 55 percent to 24 percent) from the early 1990s to the late 2000s in developing member countries, but their progress toward reducing hunger, measured by the number of underweight children under 5 years of age, has been much slower (from 35 percent to 25 percent). This highlights the multidimensional nature of poverty in Asia," ADB opines.
---
Add comment

Comments will be edited (grammar, spelling and slang) and authorized at the discretion of Daily Mirror online. The website also has the right not to publish selected comments.

---