---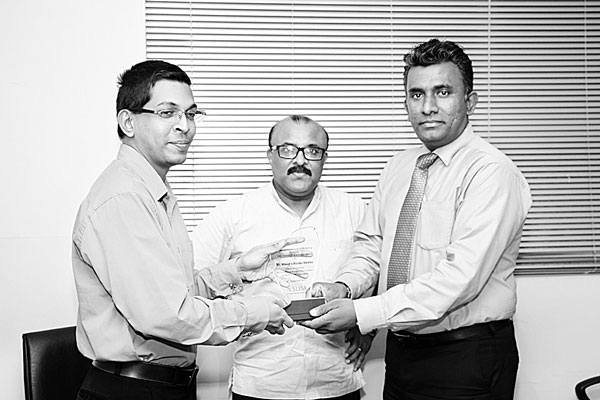 Student Nilendra Malaka being felicitated by SLIM President Ruwan Liyanagamage accompanied by Senior Lecturer G.S. Sylvester



The national body for marketing, Sri Lanka Institute of Marketing (SLIM) held a felicitation ceremony to appreciate its students who had performed exceedingly well in Charted Institute of Marketing (CIM) examination last semester.


Proving the high-quality marketing education provided by SLIM, Nilendra Malaka Stembo had obtained 100 marks for the marketing subject in CIM Examination while Miniruwani Samarakoon and Panduka Manuwaka had obtained 96 marks for the same subject.
SLIM had consistently emphasized the importance of quality marketing education and its students continue to showcase talent, skills, ability and the knowledge gained through education provided by SLIM. An eminent lecture panel at SLIM always ensures the quality of marketing education. Further, these students will not only have great recognition, but also the exposure to national level events in the fields of marketing which would enhance their talents and skills.
Speaking about the achievements of students, SLIM President Ruwan Liyanagamage said, obtaining very high marks in the CIM examination reflects the quality of the marketing education provided by SLIM.
"SLIM being the longest standing accredited study centre for CIM in Sri Lanka, serves the students with an eminent lecture panel at the institute. SLIM is absolutely delighted about the great results achieved by these students," said Liyanagamage.
SLIM CEO and Executive Director Sanath Senanayake noted that SLIM continue to expand its scope in providing quality marketing education while evolving with the changes and the development in the business world and it had helped to create a generation of very good marketing professionals.
"Results achieved by these students in international and competitive exams clearly show the very high standards of the marketing education provided by SLIM. Since our education is in line with the latest developments and international curriculum, a SLIM student can easily pass CIM exams," he added.
The event was graced by SLIM President Ruwan Liyanagamage, CEO and Executive Director Sanath Senanayake, Senior Lecturer and SLIM Education Reforms Committee Chairman G.S. Sylvester and SLIM AGM Marketing Chinthaka Wanasinghe.