---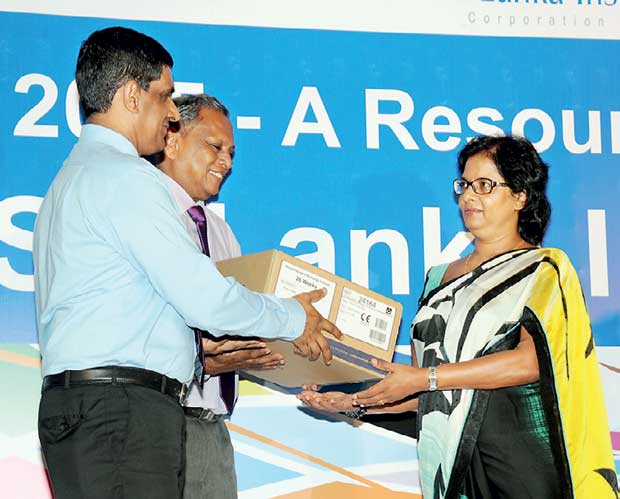 The CPAP machine bought through the Call to Donate campaign in 2015 being handed over to Dr. Damayanthi Pieris, Senior Consultant in Clinical Oncology of the Cancer Hospital and President of Sri Lanka College of Oncologists by Joint Managing Director of SLIC Keith Bernard (L) and Chairman Hemaka Amarasuriya (C).
For every missed call given to 1357, Sri Lanka Insurance (SLIC) will donate Rs. 10 towards Paediatric Ward of National Cancer Institute, Maharagama.
Sri Lanka Insurance is to kick off its Call to Donate campaign on 1st November 2016, targeting 500,000 missed calls, aiming at a donation of Rs. 5 million towards purchasing a Continuous Renal Replacement Therapy Machine which will aid critical cancer patients at the National Cancer Institute, Maharagama by supporting their kidney functions. The donation will also facilitate the purchase of essential medicines for the Cancer Hospital.
The month-long campaign will use a simple 'Missed Call' as the mechanism. The public has to only make a missed call to 1357 and for every call made, Sri Lanka Insurance will donate Rs. 10 to the fund. There will be no financial commitment on the part of the caller. The caller will engage in the campaign by donating his/her time to make the missed call to the designated number; it will give an opportunity for the public to be a part of this noble cause.
SLIC is committed to protecting the nation's children, not only today, but also tomorrow. The nation's future is dependent on children and from its onset, SLIC has been involved in projects that are connected to the well-being and empowerment of the future generation. Continuing this belief, Sri Lanka Insurance's 'Call to Donate' campaign is a unifying call to all Sri Lankans, urging them to join SLIC in helping children diagnosed with cancer.
The Call to Donate project held in November 2015 was an outstanding success with 350,000 fellow citizens lining to show solidarity and compassion towards their brethren suffering from the terminal disease of cancer. Sri Lanka Insurance donated Rs. 3.5 million to the National Cancer Institute in aid of a much-needed CPAP machine, essential medicines and prosthetic limbs.