---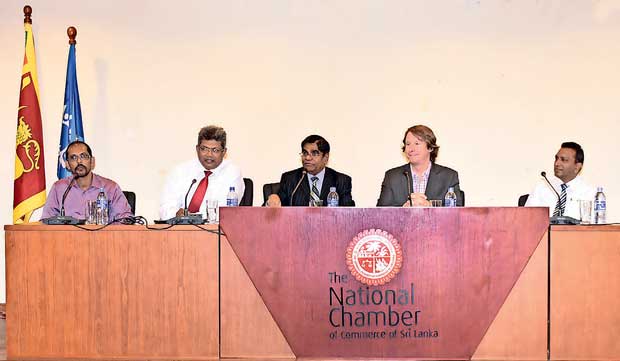 From left - Give2Lanka representative, The National Chamber Secretary General Bandula Dissanayake, The National Chamber President Thilak Godamanne, CBSR Executive Director Steven Fish and EDEX Chairman Kamal Abeysinghe
By Zahara Zuhair
Steven Fish, a renowned Canadian CSR coach and Executive Director of Canadian Business for Social Responsibility (CBSR) said that CSR, which has historically been motivated by voluntary participation, is experiencing a global trend toward becoming a regulatory requirement.
He said that old linear models are being replaced with innovative approaches and social impact assessments.
He made these remarks, speaking on the topic 'Is your company transformational?' for ICT sector, evolving around CSR, organized by the World University Service (WUSC), Give2Lanka and the National Chamber of Commerce.
He profiled 19 qualities which can be used as a guide for companies to scale up their CSR and sustainability efforts in order to address systemic societal risks, challenges and opportunities.
He said that these qualities can act as a roadmap for the companies, which are designed to be aspirational and inspirational.
Few of the qualities he mentioned were employee engagement, stakeholder accountability and transparency, multi-stakeholder collaboration, industry standards, public and customer engagement, suitable purpose, long-term vision etc.
He also advised the companies to not to be afraid to make a few mistakes and to take a few risks.
National Chamber President Thilak Godamanne said that the true essence of CSR should be upheld all the time, if the benefits are to be derived by society and the underprivileged.
"We see some companies, banks just try to promote their product, don't promote anything for a marketing purpose as CSR," he said.
EDEX Chairman Kamal Abeysinghe said that any business activity should be done in an ethical manner while being conscious about the environment and the
future generation.