---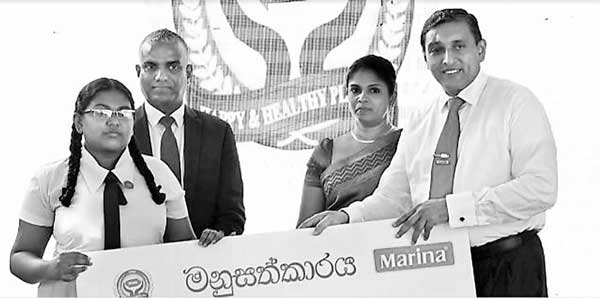 NMK Group of Companies Chairman Manjula Narayana awarding the scholarship to A. Jeeva Nayanamali, the student who secured the all-island highest marks in the Home Science stream at G.C.E. (Advanced Level)
The NMK Charity Foundation awarded scholarships to deserving students who had qualified for university admission at a recent ceremony to mark the birthday of NMK Group of Companies Chairman Manjula Narayana.

In addition to this laudable gesture towards giving a hand-up to these students to embark on higher education, the NMK group also distributed construction raw materials amongst its longstanding employees who contributed positively towards the progress and success of the company over the years, in a bid to help them to build houses of their own.

At this ceremony held under the auspices of Narayana and Cherunika Narayana, scholarships were presented to A. Jeeva Nayanamali, the student who secured the all-island highest marks in the Home Science stream at the G.C.E. (Advanced Level) and two other students, H.M. Himasha Herath and W. Amali Chathurangani, who also excelled to qualify for university admission.
Apart from these scholarships, Malathi Hettiarachchi, a long-service employee of the NMK group, was given financial assistance to build a house, while three other longstanding staff members, G.G. Dissanayake, P. Jayantha Kahiwood and Susantha Ranjith received raw materials to construct houses.

Expressing his thoughts on the occasion, Narayana said that over a period of about 35 years, NMK Group of Companies has undertaken diverse community service-oriented activities on a large scale but the continuing endeavour to "give back to society" has always remained a silent service with no publicity generated for the efforts.
In keeping with the wishes of the founder of the NMK group, N.M. Karunadasa and his wife, Narayana gave top priority to the construction of 'Hadasuwa Medura', a specialized medical facility to treat heart patients in the Kurunegala area.

In addition, he took the initiative to help the physically disabled through various social service activities in different parts of the country by donating artificial limbs and wheelchairs. As a further extension of these meritorious deeds, eye camps were conducted and poor people with poor eye sight provided with spectacles free of charge. Rivers and tanks were rehabilitated with the objective of providing clean drinking water to people.
A helping hand was also extended to those affected by the tsunami and when floods wreaked havoc; the victims were given assistance to ease their suffering.

As a leading entrepreneur, Narayana has always focused on helping the poor and deserving through community welfare work to improve livelihoods, rather than concentrating solely on deriving profits from his business. This was clearly demonstrated by the goodwill extended on his birthday to the underprivileged in society and to deserving children, who are the 'leaders of tomorrow'.
"The vision of Marina is to make the maximum positive contribution towards building a healthy and strong country and a robust nation. Marina provides top quality benchmark products to the market in its mission to achieve this objective," Narayana stressed.