---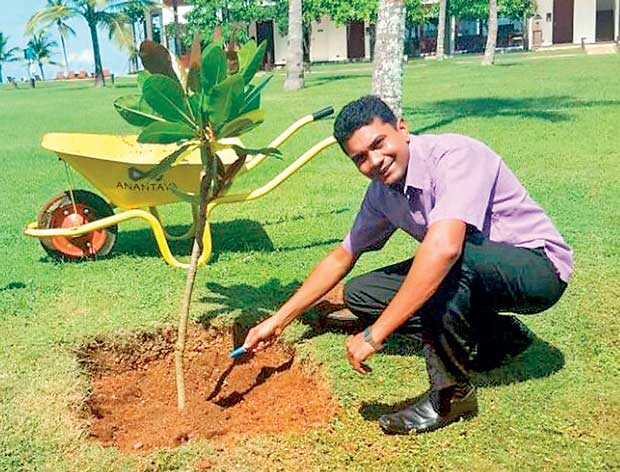 The Anantaya Resort chain of Laugfs Leisure Limited has yet again embarked on another green initiative as part of its sustainability efforts.
Renowned for its 'eco luxury' concept, Anantaya recently launched a tree planting drive at its Chilaw resort, as part of a broader campaign to strengthen its commitment towards the environment and community within which it operates. The initial tree planting drive took place along the road leading up to the Chilaw resort premises, adding a fresh touch of greenery to the surroundings. This initiative will be also rolled out at the newly built Anantaya Resort & Spa in Pasikudah, which is expected to be launched soon.
Anantaya will also be one of the first hotels to initiate eco tours in Sri Lanka, deploying eco-friendly vehicles consisting of electric and hybrid vehicles for excursions. Its resort in Chilaw will soon be geared to offer its guests with visits to the Anawilundawa Bird Sanctuary and Wilpattu National Park, both located in close proximity to the resort, in state-of-the-art electric sport utility vehicles (SUVs). Its environmentally friendly vehicle fleet will also be utilized for airport pickups and drops, as well as daily travel needs of its guests.
"Today environment concerns are mounting beyond imagination, with many adverse effects of environmental pollution felt all over the world. Present-day travellers are very much concerned about their environmental footprint through various product and service associations," remarked Laugfs Leisure CEO Roshan R. Perera.
"Laugfs' commitment to a sustainable future is ingrained in not just our approach to business but in also how we do business. The Anantaya Resort chain has also been following this philosophy from day one. Our 'eco luxury' concept at Anantaya Chilaw is a good example of this," he
further added.
The hotel architecture and landscape areas of Anantaya Resort & Spa in Chilaw have been designed to preserve the surrounding natural environment, striking a fine balance between eco-friendliness and luxury. Many energy saving and conservation measures have been built into the design of the resort, with careful consideration given to functional details such as the type of air conditioning used, installation of solar panels wherever possible, use of natural light for public spaces and recycling of treated sewerage water for irrigation. This has helped Anantaya to achieve substantial savings in energy and water management, while preserving the natural beauty of the area.
The Anantaya luxury resort chain is owned and managed by Laugfs Leisure Limited, a subsidiary of Laugfs Gas PLC.