---
Every industry aspect controlled from purchasing to exporting
About time for Plantation Ministry to look at industry with fresh perspective
International marketplace has changed and industry needs to evolve
Review necessary for industry progress
---
By Shabiya Ali Ahlam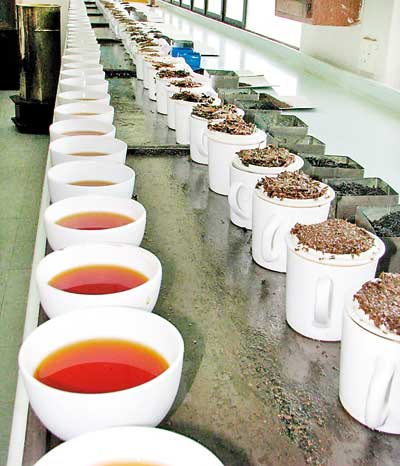 As Ceylon tea continues to struggle to brew a strong cuppa, top industry stakeholders have renewed their call for the government to liberalise the tightly controlled industry, so it can work towards the much-needed progress while sustaining a healthy growth momentum.

"We believe that Sri Lankan exporters have the strength to go after what we want. In that effort what we want from the government is very simple, that is to liberalise the tea export industry. Every single aspect is controlled, from purchasing to exporting, all of it. It is time to ease some control so we can move forward. This will also help in protecting the Ceylon Tea image," said Tea Exporters' Association (TEA) Chairman Rohan Fernando.

Pointing out that exporters are "severely handicapped" with most markets not remitting export proceeds on time, he stressed it is essential for the Plantation Ministry to look at the tea industry from a different angle, not as a body that is merely set up to push out the plantation sector's production.

"The market out there for the tea exports is over US $ 90 billion, for both hot and cold teas.

Our market capitalisation in terms of export revenue is just US $ 1.6 billion. In that context, exporters must be given every encouragement to take a bigger portion of the world tea export trade. Doing that would empower the tea exporters to go for a bigger share of the world market, thereby bringing the strength back into Sri Lanka," asserted Fernando.
Frowning up on the number of limitations faced, Imperial Teas Group Chairman and Managing Director Jayantha Karunaratne also stressed the need to address the high cost structures, which is the outcome of following traditional systems and political influences.

"International markets have changed and we cannot move because our hands are tied. Liberalising is important but it should be done with proper policy decisions. We don't want matters to get out of hand. It is essential to have a broad policy guideline which has industry growth as key focus," Karunaratne said.

Liberalising of Sri Lanka's tea industry also involves allowing the importation of teas of other origins, a matter that has been long debated. While some of the pioneers in the local tea industry scene maintain that there is no demand for blended tea in the international market place, many tea exporters seem to hold on to the view that making Sri Lanka a tea hub is the only way to capture more export market.

Meanwhile, Asia Siyaka Commodities Managing Director and Chief Executive Officer Anil Cooke noted while Sri Lanka isn't the only country submerged in the challenge of operating in a tightly controlled environment, he suggested it is a good time to examine different avenues. "With current circumstances being dynamic, it is imperative to explore and consider in an informed manner all possible avenues of stimulating the market. A review is necessary to help the industry progress," opined Cooke.

It is learnt that around 35 proposals over a period of five years have been submitted to the Plantations Ministry by the exporters in this regard. Despite continuous efforts by the industry, no measures have been taken to date to ease control.

---
Add comment

Comments will be edited (grammar, spelling and slang) and authorized at the discretion of Daily Mirror online. The website also has the right not to publish selected comments.

---