---
By Indika Sakalasooriya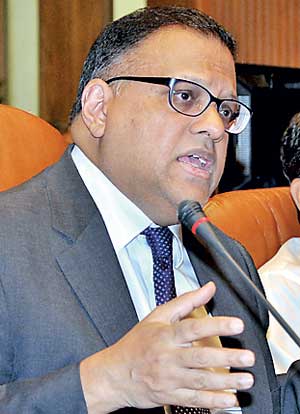 Despite inflation remaining at benign levels, Sri Lanka will have to jack up interest rates if credit growth continues to grow at a faster pace, Central Bank (CB) Governor Arjuna Mahendran said.
"I don't rule out a rate hike if credit growth continues to grow faster," Governor Mahendran told a news conference yesterday.
Sri Lanka kept policy rates unchanged at historic lows at last Friday's monetary policy review for the fifth consecutive month despite private credit growing a significant 21 percent.
"Now I think private credit is faster approaching levels where we don't want to see much more growth. By the end of the year—after Christmas is over—we have to stabilize things," Mahendran said.
The Central Bank last week put breaks on vehicle imports by directing financial institutions to impose a 70 percent upper cap in respect of loans granted for the purpose of purchase of motor vehicles.
Central Bank Deputy Governor Nandalal Weerasinghe said this was a prudential measure taken by the Central Bank to avoid a similar unpleasant situation faced by the Sri Lanka's finance sector in 2013, which had massive exposure to gold-backed loans when the gold prices fell.
The Governor Mahendran also noted that it wouldn't be easy for the Central Bank to hike rates as a lot big businesses in the country had borrowed extensively to expand their operations, making use of the low interest rate regime.
"A lot of our companies are highly leveraged. So we can't raise rates easily because that will have a knock on effect on the economy," he said.
Though he did not directly admit it, Governor Mahendran hinted that Sri Lanka's monetary policy direction would largely be determined by the United States Federal Reserve's decision to hike rates as in the case of most of the emerging and frontier markets.
Meanwhile, the Governor said the country's economy is estimated to have grown at 6.7 percent in the second quarter of the year and asserted that this growth is "real and sustainable".





CB suppressing information flow?


The highlight of yesterday's Central Bank press briefing was the journalists inquiring about whether the Central Bank was suppressing the free flow of information.
Questions were raised whether the Central Bank had barred primary dealers from talking to media, a charge the Central Bank officials were quick to refuse.
Journalists present at the press conference said some currency dealers were not willing to talk to them over the phone as they were scared that the Central Bank was eavesdropping on their calls.
Central Bank Governor Arjuna Mahendran categorically denied the charge and said the Central Bank had "better things to do".
"Besides we don't have the technology to carry out phone tapping," he quipped.
Meanwhile, questions were also raised about the delay in making some of the International Monetary Fund (IMF) observations on Sri Lanka public.
For which Central Bank Deputy Governor Nandalal Weerasinghe said the Central Bank and the IMF so far had not been able to come to an agreement on the "language" of such observations.
Despite earlier instances of such information being readily available, Weerasinghe said making such observations public was not compulsory and would only be done if both parties agree.
But journalists who were present at the media briefing averred that control on such information was not in keeping with the good governance principles of the new national unity government.