---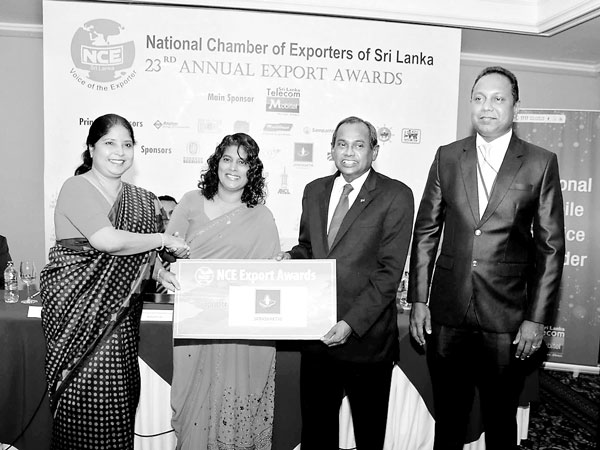 Dayalanie Abeygunawardena , Chief Operating Officer – General Insurance , Janashakthi General Insurance Limited , handing over the Sponsorship to Sarada De Silva – President, National Chamber of Exporters of Sri Lanka (NCE ). Others from L-R: Suneetha Ramanayake – Senior Manager Operations,National Chamber of Exporters of Sri Lanka and Shiham Marikar – CEO/Secretary General , National Chamber of Exporters of Sri Lanka



Janashakthi Insurance has continued to extend its support towards the 23rd National Chamber of Exporters (NCE) awards, to be held on September 18, at the Hilton Colombo


Widely recognized as "Voice of the Exporters" the NCE Export Awards is attended by the leading companies of the export community and is a highlight of the Sri Lankan business calendar.

"Janashakthi General Insurance is extremely pleased to pledge commitment to continue its partnership with Sri Lanka's prime voice of the Exporters, National Chamber of Exporters and to be part of the country's most prestigious Exporters Awards Ceremony," said Chief Operating Officer- General Insurance Dayalanie Abeygunawardena at a press conference held recently.

"We recognize that our exporters will essentially require total peace of mind to think strategically to develop their international markets. While they take calculated risks to become global brand icons, we at Janashakthi will strive to provide that essential total peace of mind assuring that their businesses are soundly protected from any unforeseen eventuality," she added.

This year, over 750 will participate in the awards which aims to recognize and reward excellence among Sri Lankan exporters and their service providers, given the vital contribution they make to sustain and expand the Sri Lankan economy. "This Awards ceremony, which is being conducted for 23 consecutive years has achieved national significance over the years, and is the most looked forward to event in the business calendar of Sri Lanka. Needless to say exports play a vital role in the economic development of a country like Sri Lanka .In this regard the Chamber stands ready to support the new Government to develop and implement a vibrant export led strategy," said President of the National Chamber of Exporters of Sri Lanka, Sarada De Silva.

Janashakthi General Insurance Limited, one of the leading general insurers in Sri Lanka offers Exporters All Risk Policy which is a comprehensive insurance cover promising to protect exporters from the time raw materials reach their warehouse, up until the final product reaches the buyer's warehouse. As such, this includes land transit, storage and raw material imports as well. The policy is annual and can be extended to protect exporter's assets as well.

Janashakthi Insurance is the 3rd largest general insurer in Sri Lanka with an exceptional and unique claim settlement track record. With a sound knowledge and understanding of local and international maritime laws and customs, Janashakthi has the strength and expertise to cover a customer's insurance needs in the most cost-effective way.