---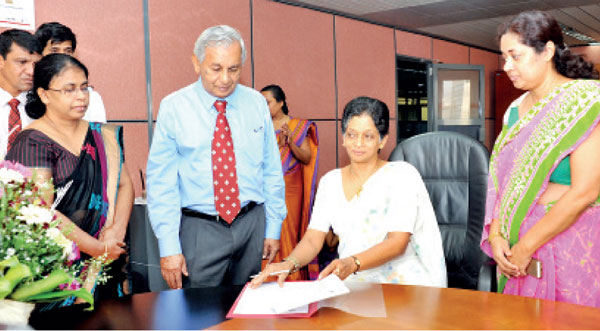 Indira Malwatte signing her appointment papers at EDB, flanked by Chandanie Wijewardhana (Secretary, Ministry of Development Strategies & International Trade-far left), S Kulathunga (former DG-EDB) and Himali Jinadasa (Actg DG-EDB-far right).



Top export promotion officer Indira Malwatte assumed duties as Export Development Board's (EDB) Chairperson & CEO yesterday.




Malwatte took over from Bandula Egodage, who stepped on October 28 after a 29-month stint.


"I am very confident of making a positive contribution to the export effort of our country using my extensive network with the relevant stakeholders both nationally and internationally and the will and ability to embark
on a programme of development, motivating the professional staff of the EDB thereby once again making them a highly capable and innovative team of officers," said the new Chairperson to top EDB officials, staff and members of the local export community soon after assuming office.
Malwatte, who combines vast experience she had in serving the government both internationally and locally as a top export promotion officer, comes with hands on experience in the private sector and has in-depth knowledge on multi - sectors ranging from industry, agriculture to services.
A product of Visakha Vidyalaya and the University of Peradeniya, EDB's newest chairperson has also served as the focal point on a number of World Bank, ITC, GIZ, CBI and JETRO export development projects as well as in a number of government and private sector boards, undertaking several product development and export related consultancies.