---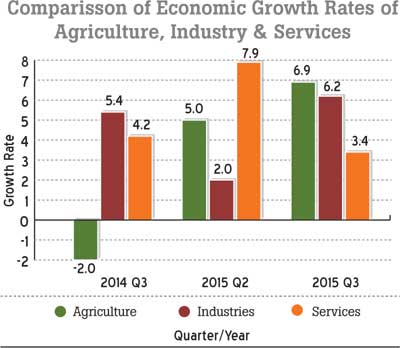 Sri Lanka's Gross Domestic Product (GDP) grew 4.8 percent in the third quarter of 2015 (3Q15) with the three main pillars of the economy—agriculture, industry and services along with taxes less subsidies contributing positively.
The Census and Statistics Department yesterday said the agriculture sector contributed 7.2 percent, industry 26.7 percent and services 51 percent for the GDP while taxes less subsidies contributed 9 percent. During the quarter under review, the agriculture sector grew 6.9 percent, industries 6.2 percent and services by 3.4 percent. The Census and Statistics Department said the estimates were reached using 2010 as the base year.
Among the sub activities of agriculture, 'growing of rice' reported a very high growth (61.1 percent) and 'growing of oleaginous fruits; including coconut' reported 7.9 percent of increase during 3Q15 compared to the same quarter of 2014. However 'growing of tea' and 'marine fishing' suffered major falls in the growth rates as 3.9 percent and 8.6 percent respectively during this quarter.
Among the industrial activities, the sub activities of 'mining and quarrying', 'manufacture of food, beverages and tobacco' and 'manufacture of wood and products of wood' have shown a striking increase of 9.6 percent, 8.8 percent and 35.2 percent respectively. However, the 'manufacture of textile and wearing apparel' and 'manufacture of chemical products' activities have reported a decline of 2.4 percent and 4.2 percent respectively, over the period under consideration.
Gross Domestic...
During the third quarter of 2015, specially the sub activities of 'telecommunication', 'financial service activities', 'insurance, reinsurance and pension funding' and 'wholesale and retail trade' have experienced a significant increase in the growth rates by 18.9 percent, 11.1 percent, 16.1 percent and 5.6 percent, respectively.
In the meantime, the sub activities of 'accommodation, food and beverage serving activities', professional services', 'education' and 'human health activities' experienced declines of the growth rates by 1.7 percent, 19.6 percent, 9.2 percent and 6.7 percent respectively, during the period of concern.
---
Add comment

Comments will be edited (grammar, spelling and slang) and authorized at the discretion of Daily Mirror online. The website also has the right not to publish selected comments.

---