---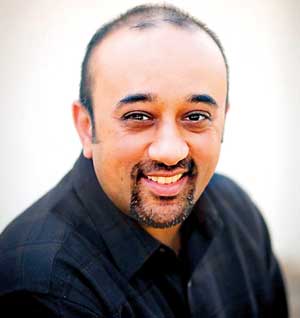 Partner at 500 Startups, Pankaj Jain, will be hosting a 2-hour workshop for Venture Engine participants, as well as other Sri Lanka-based start-ups, on June 30, at Lankan Angel Network Incubation Centre in Colombo 04.

This event is part of Venture Engine's long-running workshop series, which frequently offers opportunities to not only learn from, but also interact with, top international, regional and local Angel Investors and Venture Capital firms.

Visiting Sri Lanka for the 2016 Venture Engine finale, scheduled for June 29, which 500 Startups will attend, along with a number of other top international and regional Venture Capital (VC) firms, Pankaj runs the India-, Bangladesh- and Sri Lanka-focused 500 "Kulfi" Fund, which recently unveiled plans to invest $25 million in early stage companies with product-market fit and demonstrated traction. While it considers itself sector-agnostic, the 500 "Kulfi" Fund has noted that its initial plans involve taking a closer look at FinTech, EdTech, Health & Wellness, Data Analytics, Content and SaaS/SMB.
Interestingly, as a part of his presentation, Pankaj will be highlighting the role of 500 Startups in India where it has funded more than 50 companies since 2011, including start-ups such as ZipDial, SourceEasy, Instamojo, CultureAlley, SilverPush, KartRocket, and Headout.

Also attending the June 29 Venture Engine Finale will be representatives of top international VCs including Lightbox Ventures, Sistema Ventures Asia, Prime Ventures, Ambit Finvest and TMT APAC, Citi Corporate and Investment Banking, as well as leading regional high net worth investors.
At the same time, Blue Ocean Ventures Co-Founder Rajan Anandan will host a preparatory session for Venture Engine 2016 finalists on June 28, 2016 at the Lankan Angel Network Incubation Centre. Rajan is the Vice President and Managing Director for Google Southeast Asia and India and, as such, is responsible for Google's operations in India, as well as being a prolific angel investor in early stage technology companies in India and USA.

Currently in its final phases, Venture Engine has already begun conducting educational workshops for its 2016 participants, encompassing approaches to improve business plans, aided by customised mentoring sessions, as well as informative sessions on Accounting, Governance, Marketing, Legal, Recruitment, etc. The next milestone for Venture Engine participants is the selection of "Top Fundable" finalists for 2016.

Importantly, over the last five years, Venture Engine has continually raised awareness about the potential of Angel Investment across the wider, Sri Lankan entrepreneur community with a series of workshops highlighting topics like "What angel investors and VCs look for", "Support given to early-stage entrepreneurs", "Benefits to entrepreneurs", "Benefits to investors", etc.
Conceptualised by Blue Ocean Ventures, in collaboration with the Indian Angel Network, Venture Engine is run by strategic partner Lankan Angel Network, and backed by platinum sponsors Expolanka Holdings, Orion City, Dialog and Aavishkaar, supported by KfW, a German-government owned development bank.

To-date, over 20 companies have achieved remarkable levels of success as a result of Venture Engine, with key local innovators, including Takas.lk, Trekurious, OMAK Technologies, Ridgecrest (tickets.lk), Saraii (eco-village), Extrogene, Nithya, Katha, Simplex, Wild Trails (eco-adventure), House of Lonali, Glitteray, Threadsol (IntelloCut), Lanka BPO Academy, MyWish (weddings), Push Skateboards, Healthy Living, Zacki Herbal Products, Zigzag.lk, Endemic and 24-7 Techies, having been mentored and funded, to the tune of US$ 7 million, over the last
four years.