---
Laws drafted to launch Southern Economic Corporation
To set up 50 new industrial zones throughout the country in 5 years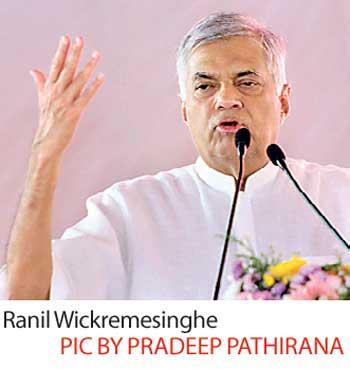 By Yohan Perera in Moneragala
Laws concerning the proposed Southern Economic Corporation are being drafted currently and will be introduced soon, Prime Minister Ranil Wickremesinghe said over the weekend.

He said Moneragala, Hambantota, Matara and Galle will be developed under this proposed corporation. "We developed Colombo and Gampaha districts by setting up the Greater Colombo Economic Commission. We will develop Galle, Matara, Hambantota and Moneragala by setting up the Southern Economic Corporation," Wickremesinghe stressed.
"Late President J.R. Jayewardene repealed some of the legislations with socialist nature when he came to power in 1977. Investors who we meet during forums have told us that the biggest reason why they don't want to come and invest in Sri Lanka is that the Sri Lankan government takes over private sector entities. "Some think that Easter Sunday bombings are keeping foreign investors away. However, the Revival of Underperforming Enterprises Underutilized Assets Bill has a greater negative impact.
This is why we repealed it. One does not have to repeal the Act to give the five entities taken over under it back to the private sector. You can do it through the cancellation of the gazette notification," he added.

Wickremesinghe also said his government will set up 50 new industrial zones in the country.

"We will set up 50 industrial zones in the island. Some are questioning us as to whether it could be done in five years. It is not a big deal for us as we managed to complete Mahaweli Development project in 10 years despite the initial plan to complete it in 30 years," he also said.

The Prime Minister said it is easier to carry out development work now as the government is driven by a single party.

"It was difficult to handle the government vehicle as it was manned by two drivers. When one driver tried to speed up the other tried to stop him. However it is easy to carry out the development drive speedily now as the vehicle is driven by one driver," he said.