---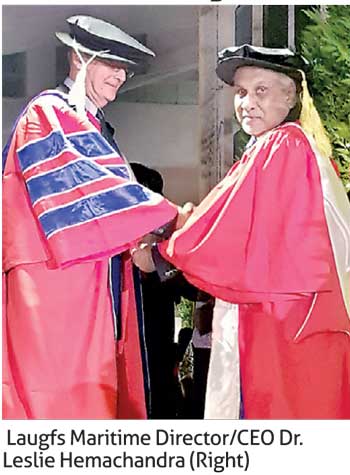 Reinforcing the leadership strength of Laugfs, Laugfs Maritime Services Director/CEO Leslie Hemachandra was bestowed with an honorary doctorate in Business Administration (majoring in Ship Management) from a prestigious university in the United Kingdom.

It was awarded in recognition of his expertise, high impactful leadership and contribution to maritime administration as well as maritime training and education in Sri Lanka and beyond. Dr. Hemachandra has been spearheading the operations of Laugfs Maritime Services since its inception, and has been instrumental in the company's remarkable growth and taking it to the International sphere during a short period of time.

"As the global economic power is shifting steadily from West to East, our aim as a Sri Lankan conglomerate is to be part of this journey as a forward thinking thought leader. Strengthening our leadership team with industry experts such as Dr. Leslie Hemachandra is important in this endeavour, as we play an active role on an international platform," commented Laugfs Holdings Chairman W.K.H. Wegapitiya.

Having begun his distinguished career as a Special Apprentice (Marine) at the Colombo Port Commission, Dr. Hemachandra joined the Ceylon Shipping Corporation and rapidly progressed to become a Chief Engineer together with the marine engineering academic qualifications that he pursued at the Marine and Coastguard Agency (Maritime administration in UK), in the United Kingdom. Known for his astute depth of knowledge and expertise, he has functioned as the Chief Examiner of Marine Engineers of Sri Lanka with the Director General of Merchant Shipping. Being instrumental in obtaining recognition from the UK and the European Union for Marine Engineers produced in Sri Lanka, Dr. Hemachandra also acts as a Consultant to the International Maritime Organization (IMO), the United Nations' body on shipping that oversees Maritime Education, Flag State Activities, and Maritime Legislation. He is also a Member State Auditor for the IMO.

"We believe in the power of our people, as it is them who drive our growth as a sustainable business. With his exceptional combination of knowledge, intuition and strategic thinking, we are indeed delighted to have Dr. Leslie Hemachandra amongst our leadership forefront," commented Laugfs Holdings Group Managing Director Thilak De Silva.