---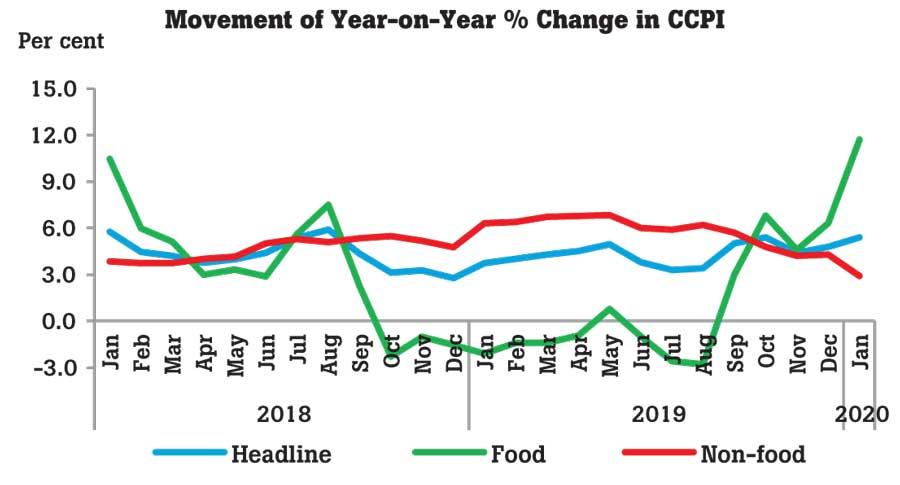 Sri Lanka's headline inflation measured by the Colombo Consumer Price Index (CCPI) advanced to 5.4 percent in the twelve months to January 2020 end from 4.8 percent in December 2019, as the prices of food and non-food items rose due to supply constraints.

However, the core-inflation or the underlying inflation of the economy barring the impact from the most volatile food and energy fell in January, paving the way for the Monetary Board to lower rates last week. The core-inflation in the Colombo metropolis in January eased to 3.0 percent year-on-year from 4.8 percent in December 2019, reflecting that price pressures are temporary and likely phase out. The Monetary Board of the Central Bank which met last week believes that the recent increases in inflation are only short-term and connected to domestic supply disruptions.

The Central Bank's forecasts showed that the headline inflation would settle around 5 percent during 2020 and would hover around 4 to 6 percent in the medium-term. The favourable inflation expectations gave the Monetary Board the wiggle room to provide more stimulus to the economy by cutting policy rates by 50 basis points.

The leading driver of January inflation was food prices. The price index of the food basket rose by 11.7 percent from a year ago.
The prices rose by 2.5 percent in January, up from 2.4 percent in December 2019.

Prices of coconut, vegetables, red-onions and fresh fruit rose while the prices of many varieties of rice decreased along with the big onions.

Meanwhile, the non-food price index also rose by 2.9 percent in January from a year ago, but at a slower pace than the 4.3 percent in December.

However, on month-on-month basis, the non-food prices rose by 0.9 percent from 0.2 percent decline in prices in December.

The price increase came from housing, water, electricity, gas and the other fuels, education, restaurants and hotel sub-categories.

However, prices of health and communication sub-categories decreased due to the downward tax revision from December 1, 2019. As expectations for medium-term price pressures remain benign, economic analysts believe that Sri Lanka has room to grow its economy without stoking inflation.

Sri Lanka aims an economic growth of 4.0 and 4.5 percent this year, up from 2.7 percent in 2019.