---
Chris Chelliah Group Vice President & Chief Architect, Cloud Platform, APAC, Japan & EMEA. He has more than 24 years of experience in the information systems industry; 20 of those years have been with Oracle across different portfolios in Asia Pacific, Europe and North America.


Mirror Business sat with him for a freewheeling interview at the recently concluded Oracle OpenWorld in San Francisco.
Edited excerpts:

So Chris, can you give us a brief description of what your responsibilities at Oracle are?
I run Oracle's cloud platform. Let me just give you a quick background as to what we've done with the cloud platform in the last five or six years. When we started looking at this, we wanted to actually look over the horizon and over the curve. When we did that, we figured that there's a bunch of established players that were doing infrastructure as a service. And it was just really about renting computers by the hour or by the minute. We knew that we wanted to go beyond that.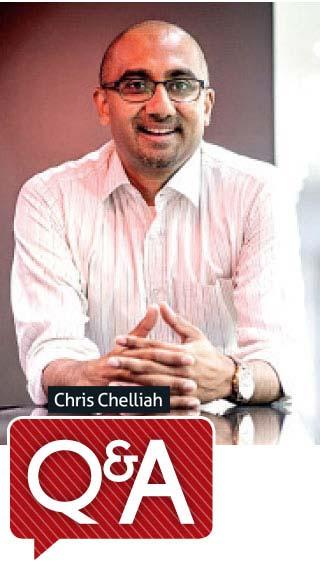 If you look at one step ahead, customers no longer just want computers; they want platforms and what they can run over and above that. So, we started investing in things we need to support that next wave and we realised that you need a very, very solid building block. And that building block is the OCI, Oracle Cloud Infrastructure. And we call it Gen 2, because it has built-in capabilities that you just cannot have in Gen 1 or from traditional vendors. It keeps customer's data isolated from the cloud provider— in this case, Oracle.
And you have to build that at the atomic level of your cloud. And it's not something you can go and retrofit. You can't split the atom down the road. When you build things that way, with that isolation, you get a whole bunch of security characters, because you're physically isolated. When you get the physical isolation, you get a whole bunch of performance characteristics, because now you don't have noisy neighbours sharing the same computer. So, if you build out of the atomic level, which is our Gen 2 cloud, it gives you the option to build a higher order of services to meet that data explosion.
We could see what's coming around the corner. Customers want to consume data differently. So, that's kind of where we started five years ago and it was the birth of OCI. And on that platform that we built, we took our assets and our strengths in data management. Our strength in data management is in relational data management. But we extended that to not just relational data management but to all of data management. And we looked at what customers wanted to do autonomously.
Things like patching and securing and tuning and diagnostics are not things that add value to any business. And we said, why would a customer rent a computer just so they can install software and then patch and secure that? Absolutely not. So, we then took our database assets, put them on the OCI and turned on some of the autonomous capabilities that we had on top of that. Now, this is not something you can build overnight.

So, how is Asia adopting to cloud and autonomous?
Phenomenal. Absolutely phenomenal. I think it's because we've got a little bit of a leapfrog advantage. Customers had a lot of inhibitors getting into the cloud earlier. But when we started offering high-order services, they were able to jump on board easily. Unfortunately, I cannot tell you a specific number for APAC. But what I can say is we are pulling above our fair weight. If you look at the APAC contribution to the Oracle business, I think we are exactly doing that. If you looked at the logo slide of Larry's (Larry Ellison) presentation, about 35 percent of the logos were from APAC. So, I believe that is a good indication.

The autonomous Linux, which was just announced, do you think it will be a game changer?
I think it will be. If you look at history, we have always come in little later than the first. But we always come in with an enterprise mindset. And usually, that's where market shifts happen when there's an enterprise uptake on it. So, we announced autonomous Linux, which is going to do what we do for the database, we move down one level in the stack, we will provision monitor, patch, secure scale, your Linux environments.
And you know, this came out of an acquisition we made a long time ago. In 2011, we bought a company called Ksplice. We needed that capability to build our autonomous database. We have to patch your database while you are running. So, for us to do that, we need to patch the operating system.
Just look at the breaches happening all around the world. A lot of these happen when there are patches available. But you say oh I can't afford the downtime, so I'll do it in my next window, which is in three months. But you are too late. But with autonomous Linux, we can secure your data not only in the cloud but also on-premise. Our autonomous Linux will fully patch, monitor, secure and configure you on cloud as well as on-premise.

But finally everything trickles down to the cost factor. Let's say a small-scale business in APAC wants to go the autonomous journey with Oracle. How expensive would that be?
This is the beautiful thing, which I actually get to say. We are orders of magnitude cheaper. In fact, Accenture has done a study three years in a row, where they compare us with a major cloud provider, which is above us. According to the study, we are 100 to 200 times faster. Now in a cloud, you are paying by the minute. When I say 100 to 200 times, you would ask Chris is it 10 times cheaper or 200 times? It depends actually on you because what we see is a trade off.
Some customers want to be faster, so they're willing to pay more. We have a completely scalable solution. So, you can say, you know what, I don't want to be 200 times cheaper; I just need to be 100 because I could do with that extra performance.
Our Linux has been free since day one. So, it is an order of magnitude. You can see what the cloud has done; it has made it available to the masses. If you look at where Oracle used to play, we used to play only in the enterprises, because frankly, it was the Rolls Royce solution. But when we are in the cloud, a Rolls Royce becomes effectively available to everybody. You basically pay as you go; everything we do is completely elastic. When you don't pay, you don't use it. But it's the same product. So, you are still getting the Rolls Royce but you only pay for it when you use it.

Can you give me a brief example of how these capabilities can help a small business to draw business insights?
Let's say you and I have an idea right now. Let's go spin this right now. Literally on a browser in three minutes you can provision an autonomous database. Your data can be anywhere. It doesn't matter if your data is on-premises, in a thumb drive, on an Oracle cloud or even an Amazon cloud. It doesn't matter. We treat it exactly the same. And once we look at it, since we know a little bit of data management, we can apply machine learning and draw some insights. It's phenomenal. Anybody can do this. You can just chuck in your data. It
just works. At first you think this is witchcraft. You can throw in an Excel spreadsheet with rows and columns. If somebody gives you sales data for the last 10 months, you just pick it up and just it in there. And it will draw charts and say these two variables are the most highly correlated, this time of the day…this age demographic. It will just pull it out for you.

So, with this, companies don't need database analysts anymore?
No, actually the opposite. DBAs are not doing mundane tasks. The job description of a DBA is install, monitor, patch provision, build application and drive use of the data and so on. But they spend 90 or 80 percent of the time of doing the tuning; dropping an index or something like that. Does that really help my business? You know, checking if the last night's backup worked? Is that really adding my value in my business?
It's something that you just need to do. It's a functioning task. We take that away. And we empower them to be data analysts. So, it is no longer the IT being the bottleneck. If you think about it, DBAs love it. They can become more of data analysts instead of monitoring a database. With this technology, I think DBAs are the most empowered.

If I were to buy what you are saying, I feel that you guys are far ahead from your competitors.
I would say we are 10 to 15 ahead of our competitors. We have got a head start here by far. The technological advancements we have achieved can't be done overnight. Now what we are trying to do is making sure that all of this technology is accessible to as many people as possible. We have already talked about how any mom-and-pop shop can now access this because it's low cost and
rapid entry.
Also, with our recent partnerships announced with Microsoft and VMware, we are really removing roadblocks for businesses to make use of the best technology available. There is a big percentage of our customers who are also still running the database on Microsoft. It's quite big. Those customers typically have built their applications on .NET or the Microsoft applications. So, what we have done is to build a high latency network between the two. By the way, you, as a user, see them as a single environment.
A lot of our customers are also deployed on VMware. So, like with Microsoft, it's the same thing.
As a customer, you won't even know the difference, because it is that seamless. You will just be managing a VMware farm. Four nodes of that farm happen to run on OCI…no difference, you run it, you manage it exactly as you do.
You know, part of the whole digital disruption used to be people going with the cloud because it levels the playing field. Now it is all about moving faster with data. But you can't do that on a Gen 1 cloud. With the Gen 2 cloud, all that is just three minutes and a mouse click away. Throw your data in there, find your target audience and go for it. We are really excited about it.