---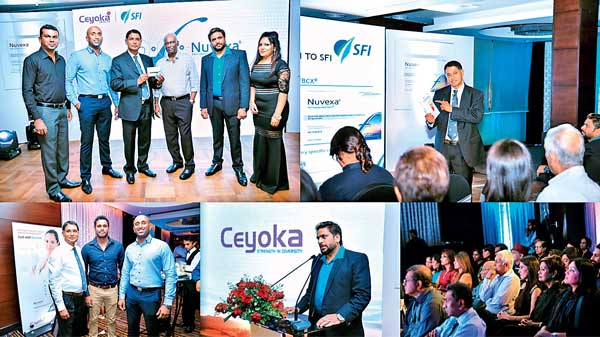 As more people are becoming conscientious and proactive about managing their health, it is a well-known fact that increased fiber intake helps fight against heart disease, diabetes, lowering cholesterol and stop weight gain.

Ceyoka (Pvt) Ltd, is committed transforming lives, recently introduced Nuvexa, a naturally-sourced dietary fibre with impressive fat binding capability.
Manufactured in Switzerland by SohoFlordis International (SFI), a global natural medicine company, Nuvexa is a natural, patented dietary fibre that binds dietary fat to maintain healthy levels of cholesterol and triglycerides and also helps reduce the calorie intake. Decades of research onFBCx, an active ingredient in the Nuvexa tablet, has demonstrated it binds up to 9 grams of dietary fat (equivalent to
500 calories).
FBCx passes through the digestive tract without being absorbed and is eliminated without unpleasant side effects. US FDA& TGA approved Nuvexa is helpful to manage weight, as fat from food can be blocked from being absorbed in the body.

As it is sourced from non - GMO corn, Nuvexa contains no side effects and offers individuals a new tool to enable them to reach their weight management and healthy lifestyle goals.Nuvexa does not contain gluten, lactose, yeast, wheat, sugar, salt, egg, soy, dairy, artificial colors, sweeteners
or preservatives.

"Dietary fat-complexing fiber, Nuvexa, has been seen to provide support by limiting caloric intake from ingested fats and offer beneficial effects on lipid and glucose metabolism. Nuvexa also provides healthcare professionals and health-conscious consumers with confidence in the quality and consistency of dosing from every capsule. It has a distinctive appeal for individuals to wish to maintain their cholesterol levels and healthy lifestyles," said Dr. Dilip Ghosh, PhD, FACN Project Manager, South Asia of SohoFlordis International (SFI).
The recommended dosage for adults is two tablets with a fat containing meal or snack, three times a day. Nuvexa is recommended for men and women, along with healthy lifestyle changes, who need a helping hand to maintain healthy
cholesterol levels.

"Ceyoka is very pleased to launch this impressive product, Nuvexa which has been clinically- researched to help maintain healthy cholesterol levels in healthy individuals which play an important role in supporting healthy heart. As the first natural fibre binding product in the market our team is uniquely positioned to promote its unique capabilities" noted Dr. Syed Qamar Ali, Ceyoka (Pvt) Ltd.