---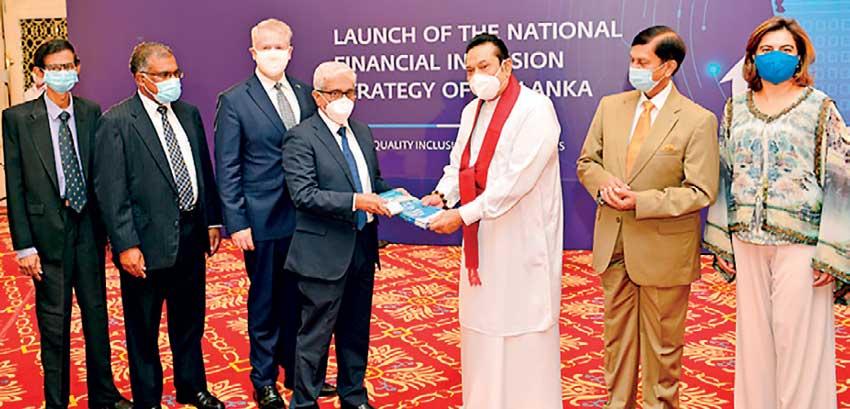 From left: B. L. J. S. Balasooriya, Director Regional Development Department of the Central Bank, K. M. M. Siriwardena, Deputy Governor of the Central Bank, David Holly, Australian High Commissioner to the Sri Lanka and Maldives, Professor W. D. Lakshman, Governor of the Central Bank, Mahinda Rajapaksa, Prime Minister and Minister of Finance and Planning, Ajith Nivard Cabral, State Minister of Money & Capital Market and State Enterprise Reforms and Amena Arif, IFC Country Head for Sri Lanka and Maldives
Strategy originated in 2018 through CB's national level survey
IFC points out greater access to financial services means better living standards, better biz opportunities and investments
PM believes strategy will complement govt.'s efforts to minimize provincial income disparities, urban-rural inequalities etc
Sri Lanka's first National Financial Inclusion Strategy (NFIS), launched yesterday aims to make financial services more accessible, efficient, and affordable for all households and businesses
in the country.

The NFIS is a joint effort led by the Central Bank of Sri Lanka with technical and financial assistance from IFC, a member of the World Bank Group—under the IFC-DFAT Women in Work programme.

The development of this strategy was a multi-stakeholder effort supported by the Government of Sri Lanka.

The new strategy highlights Sri Lanka's gains in boosting access to financial services, and particularly, on areas of improvement to ensure usage and full financial inclusion in the country.

"The National Financial Inclusion Strategy symbolises our country's commitment towards a better and inclusive Sri Lanka that will benefit all individuals and enterprises.
I believe this strategy will complement the government's efforts to minimize the provincial income disparities, urban-rural inequalities, and to promote inclusive growth," said Prime Minister Mahinda Rajapaksa.

"More importantly, this strategy prioritizes future generations, having identified financial literacy as a key pillar. The proposal to strengthen the national curriculum in this area is a positive step. Investing in the education of our younger generation is the most significant investment we can make as a nation, as this will be a particularly helpful approach to the systematic correction of the financial habits of Sri Lankans," he added.

The basis of the strategy was developed through a national level survey conducted by CBSL, supported by IFC, in 2018. The survey, which took a gender-sensitive approach, helped identify the current status of financial inclusion, where for example, women tend to use informal rather than formal sources of financing. It highlighted that low financial awareness, particularly for digital financial services, is a common issue among both men and women.
Based on these findings, the strategy is structured around four core pillars—increase access to digital finance and payments, boost access to finance for micro, small, and medium enterprises (MSMEs), protect financial consumers, and improve financial literacy among consumers, including women.

"The development of the National Financial Inclusion Strategy, a first-of-its-kind in Sri Lanka, was not a single-handed effort of the Central Bank of Sri Lanka. It's my pleasure to acknowledge all the support given by the stakeholders, both public and private, during the extensive consultative process which took place in developing the strategy," said Central Bank Governor Prof. W.D. Lakshman.

"I sincerely hope that all stakeholders will, undoubtedly, take part in the implementation phase, which is the most important aspect of any national policy," he added.

The strategy also identifies key areas that will help boost financial inclusion in the country. These include developing comprehensive and robust data collection mechanisms, improving and expanding financial infrastructure, leveraging policy tools and creating an enabling regulatory environment.

"As Sri Lanka continues to move forward, it's crucial to have a strong, inclusive and sustainable financial sector. Greater access to financial services means better living standards, better business opportunities and investments," said Alfonso Garcia Mora, IFC Vice President for Asia and Pacific.

"We know from the impacts of COVID-19 that digital finance became a safe, secure and timely option for many people. Yet, some people are still missing out. As the new strategy points out, 62 percent of Sri Lankan women were aware of financial transactions through mobile phones, yet only 32 percent were comfortable using the technology. We stand ready to help foster a more resilient and inclusive financial system for Sri Lanka."