---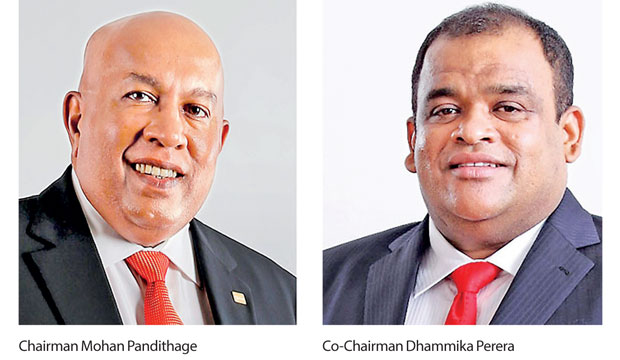 Diversified conglomerate Hayleys PLC, continuing with its buying spree, yesterday struck a mega deal to acquire a 71 percent stake in leading consumer durables retailer Singer (Sri Lanka) PLC (SSL) in a whopping Rs.12.5 billion deal.

The Hayleys group, controlled by business magnate Dhammika Perera, last month acquired Sri Lanka Shipping Company Limited, in its quest to become Sri Lanka's largest shipping and maritime company, for Rs.4.9 billion.

Hayleys yesterday said it entered into an agreement with Retail Holdings (Sri Lanka) B.V. (RHSL) to purchase its 231.8 million shares constituting 61.73 percent in SSL by itself and its nominee at a price of Rs.47 per share. Hayleys has also entered into a further agreement to purchase, either by itself or through its nominee, the balance shareholding of 35.5 million shares constituting of 9.47 percent held by RHSL in SSL, within a period of 12 to 15 months from the date of the initial transaction, at the option of RHSL at a price of Rs.47 a share.

SSL's net asset value per share as at June 30, 2017 stood at Rs.20.22.

SSL in a stock exchange filing said following the transaction, Hayleys will become its controlling shareholder and will be obliged to make a mandatory offer to the remaining SSL shareholders under the Company Takeovers and Mergers Code of the Securities and Exchange Commission.

The trading of shares of SSL and Hayleys on the Colombo bourse was halted yesterday pending announcements from the two companies.

Amid takeover speculations, SSL shares on Tuesday soared by Rs.8.10 to close at Rs.52.50.
RHSL is a subsidiary of Hong Kong-based Singer Asia, whose parent is Retial Holdings N.V. Apart from Sri Lanka, Singer Asia operates subsidiaries in Bangladesh and India. It had been speculated for some time that Retail Holdings N.V. was looking to divest its
Asian operations.
The subsidiaries in Sri Lanka and Bangladesh are retail businesses engaged in the distribution of a wide variety of household consumer durable products with consumer credit and other financial services.

The subsidiary in India is primarily a wholesale distributor of sewing and appliance products that also has a right to retail nationwide. SSL has three listed subsidiaries namely, Singer Industries PLC, Regnis Lanka PLC and Singer Finance PLC.

SSL weathered the slowdown in consumer demand during the first half of the year (1H17) as the group top line recorded a growth of 13.0 percent year-on-year (YoY) to Rs.13.1 billion. However, earnings for the period fell 60 percent YoY to Rs.545.1 million.

As at June 30, 2017, SSL's asset base stood at Rs.44.4 billion.

Meanwhile, the Hayleys group in its stock exchange filing did not mention how it would fund the acquisition.

The group is already highly geared and during the 12 months to June 30, 2017, group borrowings rose by about Rs.13 billion due to enhanced investments made in key businesses.

Hayleys in its stock exchange filing said it has been exploring opportunities in the consumer and retail sector. The Hayleys group has a consumer business under its subsidiary Hayleys Consumer Products Limited, which markets lighting products and solutions, photo imaging, healthcare and FMCG products.

Dhammika Perera owns a little over 50 percent stake in Hayleys PLC and functions as Co-Chairman of the group. His Royal Ceramics PLC, through its subsidiaries, which were acquired in 2013, enjoys over 80 percent share of Sri Lanka's floor tile market. Companies controlled by Perera also have a monopoly in the country's aluminium industry. He is also the largest shareholder of two banks and with the latest acquisition he will have three finance companies under his umbrella.